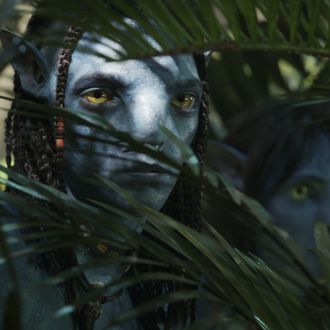 Update January 22: Another holiday, another high water mark for Avatar: The Way of Water. This time, Big Jim Cameron rang in the Year of the Rabbit by crossing the $2 billion threshold this week. It is the sixth movie to do so, per Variety. It is likely to dethrone Avengers: Infinity War as the fifth biggest movie of all time in the coming weeks.
Original story follows.
Christmas (or Na'vidad) came and went — but not without dropping off an enormous gift to Avatar mastermind James Cameron. Less than two weeks after its release, Avatar: The Way of Water has officially earned $1 billion globally at the box office. Now, at the start of the New Year, the movie is sitting pretty at $1.37 billion. Variety previously reported on the morning of Tuesday, December 27, that the sequel film had earned $955.1 million since its premiere. Later that evening, multiple sources confirmed that the movie had swum to billionaire status. According to Deadline, the film has now celebrated the start of 2023 by passing $400 million in the United States, despite the rise of COVID cases and snow storms across the nation causing people to stay inside instead of taking a trip to Pandora. Cameron's getting closer to fully accepting that the film is a hit, a.k.a. hitting his goal of $2 billion in box-office sales. The first Avatar film earned almost $3 billion back in 2009, becoming the highest-grossing film of all time. Will Cameron hit that sweet $2 billy mark? If sales continue at this rate, we might as well prepare our celebrations for Jim for his próspero año!
This post has been updated throughout.