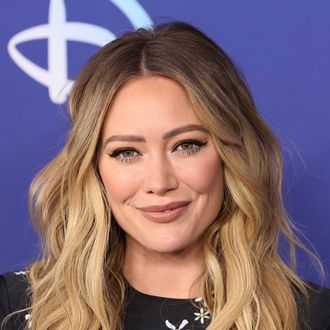 Photo: Arturo Holmes/WireImage
Hey now, hey now, this is what dreams are made of: Hilary Duff apparently hasn't given up on a Lizzie McGuire revival just yet. She recently told Andy Cohen on Watch What Happens Live that she would "of course" still be willing to do a revival that lives up to her vision. When Cohen asked her to expand on what happened with a previous attempt at a reboot that was canceled at Disney+ several years ago, Duff took a few seconds to muster up an intriguing response. "Disney+ was very new, you know," she said. "And I think they were like figuring out their — and we were figuring out our — and like, and so — I am optimistic." We'll take it! After all, that diplomatic answer seems much more hopeful than what she said in 2020, when she initially announced that we would not be getting to see a grown-up version of Lizzie after all.
"I know efforts and conversations have been everywhere trying to make a reboot work but, sadly and despite everyone's best efforts, it isn't going to happen," she wrote on Instagram at the time. "I want any reboot of Lizzie to be honest and authentic to who Lizzie would be today. It's what the character deserves. We can all take a moment to mourn the amazing woman she would have been and the adventures we would have taken with her. I'm very sad, but I promise everyone tried their best and the stars just didn't align." Duff previously hinted at creative difficulties with Disney+, implying that the streamer didn't feel the show would be family-friendly enough. She even made a public request for Hulu to pick up the show instead to avoid "limiting the realities for a 30-year-old's journey to live under the ceiling of a PG rating." Hopefully, there's some streaming platform out there that will eventually let Lizzie reach adulthood. Miss McGuire … you grow, girl.