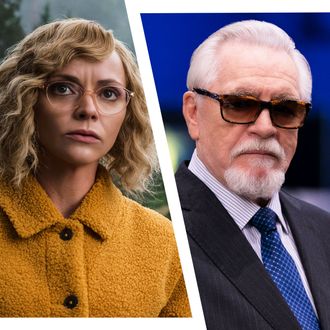 Misty could take him.
Photo: Kailey Schwerman/SHOWTIME; Macall Polay/HBO
What's that buzzing we hear? Is that the sound of a group of yellowjackets? Or is the buzz of a cell phone, notifying us that our father has cratered our career? This spring, Sunday nights will provide both. Succession season four is premiering on March 26 … in the same exact linear time slot that Showtime previously announced for our other favorite returning drama, Yellowjackets. But … we love our teenage cannibals and our conniving failsons equally!
Luckily, Showtime kinda made that choice for us, actually. While Yellowjackets is premiering on the network at 9 p.m. EST on Sundays, just like Succession, it will actually be streaming on Fridays. So, while both shows are airing on cable at 9 p.m. on March 26, the premiere of Yellowjackets will actually be available to stream on Showtime on March 24. Succession, meanwhile, will be uploaded to HBO Max at 9 p.m. on Sundays, aligning with its on-air premiere. So, you can get your fix of both Van and the Roys getting into vans with no issue at all. Hail Logan! Hail whatever creepy magic is happening in those woods!