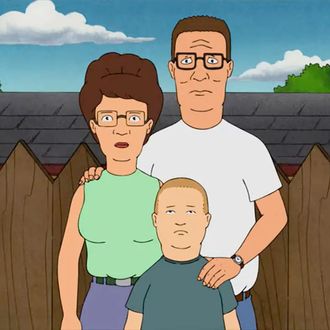 If you've ever wondered how the propane and propane accessories business is doing in 2023, wonder no longer, because King of the Hill is back, baby! The beloved animated comedy, which went off the air after 13 seasons in 2010, is coming back to our screens thanks to a revival, Hulu decreed January 31. Returning along with the show are original creators Mike Judge and Greg Daniels and original voice talent Judge, Kathy Najimy, Stephen Root, Pamela Adlon, Johnny Hardwick, and Lauren Tom. Let's hope Judge has been practicing his Boomhauer voice in the interim. Joining this crew for the ride is incoming showrunner and executive producer Saladin Patterson.
"Yeah, man I tell you whot man, that dang Ol' Greg, talking about 'O.G.' and then that Mike Judge … Inspirations, man …" Patterson said in a statement. "The original show, dang ol' classic … Got my kids, man, walking around talking about 'That's my purse! I don't know you!' Feeling blessed, man, I tell you whot 'Feel so Good' is a great song, I don't care what no-dang-body says …"
There is no date yet for when fans can expect to see this reboot hit Hulu, but the streamer revealed the revival has been in the works since the cast and creators reunited to celebrate the show's 20th anniversary at San Francisco Sketchfest in 2017. Given how long it's been in development, something tells us we'll get to learn how many of the residents of Arlen, Texas, voted for Donald Trump, how strongly they debated teaching critical race theory in their schools, and a whole lot more.