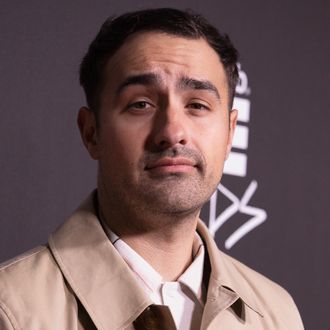 The latest update on a possible fourth season of Stath Lets Flats, Jamie Demetriou's beloved Channel 4 and HBO Max sitcom about the bumbling misadventures of a group of lovable property managers in London, is that there is no update. The show remains on an indefinite pause, with the theoretical possibility it may return one day, but also may not. Fans who feel like they've been waiting their whole lifetime for this confirmation are, however, in luck. Netflix is releasing a new Jamie Demetriou comedy special, fittingly titled A Whole Lifetime With Jamie Demetriou. As Stath might say, "Dusty!"
The hour-long special, produced by BBC Studios, will take "the audience on a journey from birth to death through the ever-adored medium of song and sketch," per a January 11 Netflix release. Along the way, it will unpack "the most crucial, embarrassing, heartening, and ultimately futile stages of a life lived in the anxious modern day." It will also function as a reunion of sorts, bringing Demetriou together with his Stath co-stars Ellie White, Kiell Smith-Bynoe, and Katy Wix, and his Fleabag co-star, Sian Clifford. Tragically missing from this list? Demetriou's sister, Stath and What We Do in the Shadows star Natasia Demetriou. But don't worry — the special's creator says it will feature more than enough of him to satisfy your Demetriou quota. "I'm in it quite a lot, hope that's okay!" he warned in a statement.
Netflix has yet to announce a date for when A Whole Lifetime will hit the streamer, but in his Instagram post announcing the special, Demetriou said it would be "coming soon." Here's hoping it will introduce the world-at-large to Andy, Demetriou's innocent chav character with a shockingly tender singing voice.