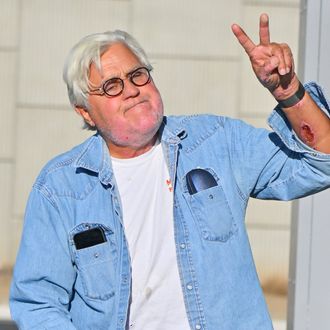 The Unlucky Duck.
Photo: MEGA/GC Images
Did Jay Leno break a mirror recently?Walk under a ladder? Do something to piss off an old witch (Conan doesn't count)? Leno is turning into the unluckiest man in show business. First, on November 13 last year, Leno suffered severe burns in a gas fire while working on a car in his garage. He was released from the hospital on November 21, only to injure himself again just a few months later. "I've got a broken collarbone," he told the Las Vegas Review-Journal on January 26. "I've got two broken ribs. I've got two cracked kneecaps." The TV personality was test-driving a 1940 Indian Motorcycle when he noticed the smell of gas. But this time, it wasn't the gas that hurt Leno. "I turned down a side street and cut through a parking lot, and unbeknownst to me, some guy had a wire strung across the parking lot but with no flag hanging from it," Leno said. "So, you know, I didn't see it until it was too late. It just clothesline me and, boom, knocked me off the bike." Leno is still well enough to tell the Review-Journal that he is working this weekend, but it kinda sounds like Jay Leno should stay away from vintage vehicles.
Unfortunately, that will be a little bit easier as CNBC has declined to renew Leno's classic-car series Jay Leno's Garage, according to Deadline. The show has been on for seven seasons, and guests have included Joe Biden and Elon Musk. On the Musk episode, Musk noted that the Cybertruck they were driving around was bulletproof, and, look, we aren't ones to recommend Elon's products … but Jay, you gotta get yourself something new.