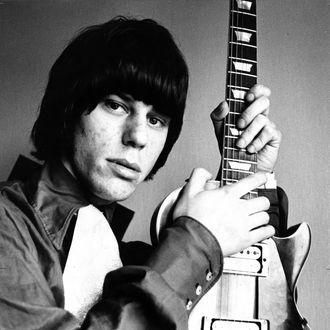 Jeff Beck.
Photo: Val Wilmer/Redferns
Jeff Beck, one of the most renowned and accomplished guitarists in rock music, died January 10 at the age of 78 after "suddenly contracting bacterial meningitis." In a statement, his family asked "for privacy while they process this tremendous loss." Emerging in the 1960s as part of the British rock band the Yardbirds — an incubator for some of the greatest guitar talent in history, including Eric Clapton and Jimmy Page — Beck's ambitious spirit guided his career in the subsequent decades as the leader of his band, the Jeff Beck Group, where he experimented with elements of blues, funk, and jazz. His sense of curiosity was also reflected in his technical prowess; he had a knack for discovering new and humorous ways to distort a guitar, somehow making a few strings sound like an instrument that originated in a limitless universe.
Despite not achieving quite the level of commercial success experienced by his peers — his best-selling album, 1975's Blow by Blow, peaked at No. 4 on the Billboard charts — Beck has often been referred to as the ultimate "guitarist's guitarist" and relished the perks of a private life. "All I can say is that I've never made the big time, mercifully probably," he told Rolling Stone in 2018. "When you look around and see who has made it huge, it's a really rotten place to be when you think about it. Maybe I'm blessed with not having had that. And I have to look at it that way." Beck has the rare distinction of being inducted in the Rock & Roll Hall of Fame twice: for his work in the Yardbirds and his solo career.
Tributes to Beck among rock's elite have been pouring in since the news broke of his death. Page remembered him as "the six stringed warrior," while Mick Jagger wrote, "We have lost a wonderful man and one of the greatest guitar players in the world." Rod Stewart, an original member of the Jeff Beck Group, reminisced with the following: "Jeff Beck was on another plane … He was one of the few guitarists that when playing live would actually listen to me sing and respond. Jeff, you were the greatest, my man. Thank you for everything." Ronnie Wood, another early member of the Jeff Beck Group, wrote, "I feel like one of my band of brothers has left this world, and I'm going to dearly miss him." Robert Plant also remembered the "timeless" Beck as someone who "cooked up magic through all the passing eras, always up for the next, unknown, unlikely collision." More tributes can be read here.