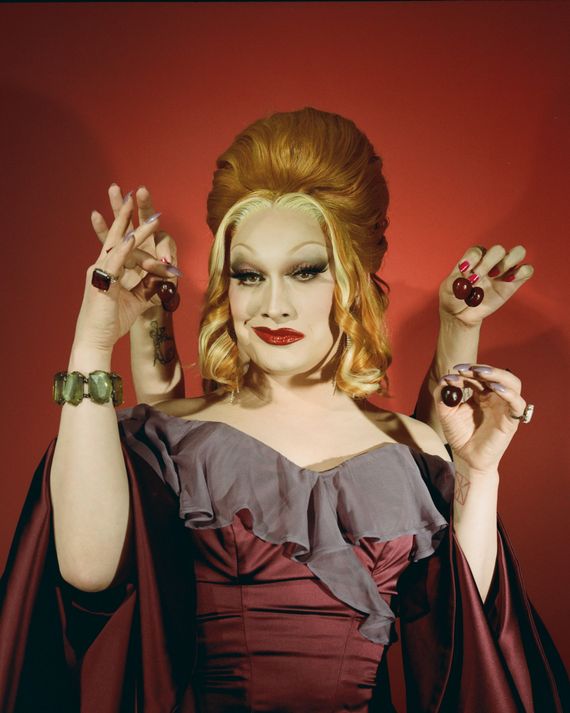 Jinkx Monsoon is ready to pop her Broadway cherry.
Photo: Cameron Postforoosh
Fame is a fickle thing. If you desire attention — if you need it — usually you have to sing and dance for it, and you'd better keep it fresh. That's the lesson sexy murderess and aspiring vaudeville star Roxie Hart learns in the musical Chicago, and often it's the lesson of reality television, quite literally so on RuPaul's Drag Race: You'd better lip-sync for your life! As it happens, Jinkx Monsoon, the only queen to win Drag Race twice ("I claim this in the name of Hecate, Mother of Witches," she declared when crowned the Queen of All Queens, beating other past winners she was pitted against in Drag Race All Stars last year) is starring as prison warden Mama Morton in Chicago. She is appropriately bewitching in the role. As I overheard one veteran usher at the Ambassador Theatre telling two excited fans during intermission, "I've never seen a standing ovation for Mama Morton in the middle of the show. Not in 26 years."
Jinkxie's latest triumph has been a long time coming. Chicago's opening number, "All That Jazz," was one of the first songs she performed in drag as a teenager, and as she told RuPaul on the first season she won (No. 5, back in 2013), "It's been my life dream ever since I started doing drag to do drag on Broadway." At the time, Ru told her she would make a great Blanche DuBois. The Chicago character she most identifies with is Velma Kelly, Roxie's jailhouse rival for criminal stardom, but as you may know if you've watched her on Drag Race or seen one of her touring shows, Monsoon is totally hilarious but not exactly a Bob Fosse–level dancer. "I have said for a while now I would love to be in the perfect show at the perfect time at the perfect point in my life. But I also would've just taken anything," she tells me. "Let's get real. Velma's choreography? Maybe, maybe when I was 16." That self-deprecation is key to her personality; despite her success, she still refers to herself as the "internationally tolerated drag-queen superstar" Jinkx Monsoon.
After years of Chicago casting the likes of Pamela Anderson, Angelica Ross, and Real Housewife Erika Jayne to try to keep the seats full, Monsoon is a hit. You might say she's Chicago-ing Chicago. And with appearances on Seth Meyers and the morning news, the attention she is getting gives her another chance to move beyond the intense but niche confines of Drag Race fame. She's 35 now, recently married to a younger Englishman she met on tour, and despite her boozy has-been drag persona — she took her name from Edina Monsoon, Jennifer Saunders's hot-mess mom on Absolutely Fabulous — has quit drinking.
"Is it weird that I have always aspired to be washed-up?" Monsoon asks when I meet up with her one day after rehearsals. She admits she's been practicing the song "When You're Good to Mama" in the shower — "When you're strokin' Mama, Mama's strokin' you" — but still hasn't memorized all of her spoken lines.
"The characters I always resonate with are the ones who are past their prime and trying to regain it, which is funny because this is me getting my start," she says. Then, looking as if the exhaustion of the days before her was getting to her, she started to cry. "They're happy tears," she says. "I had bleak moments in my life leading up to this, and there's something about being able to fight through it or play it to the benefit of others. I've always aspired to be a woman of a certain age, and I've always aspired to be washed-up, and lately I'm getting to do that at the top of my game."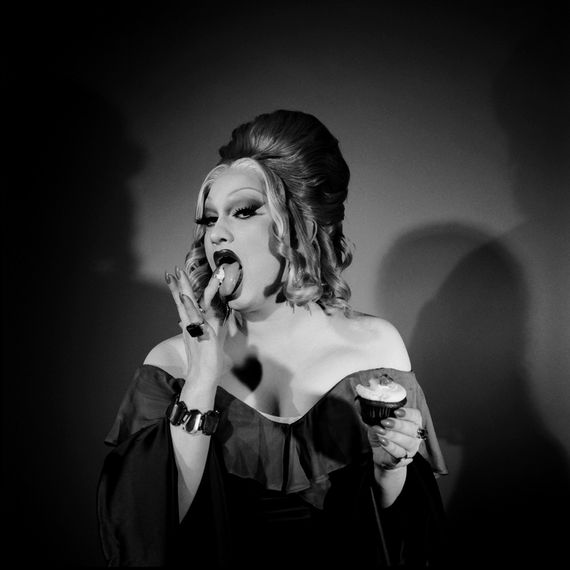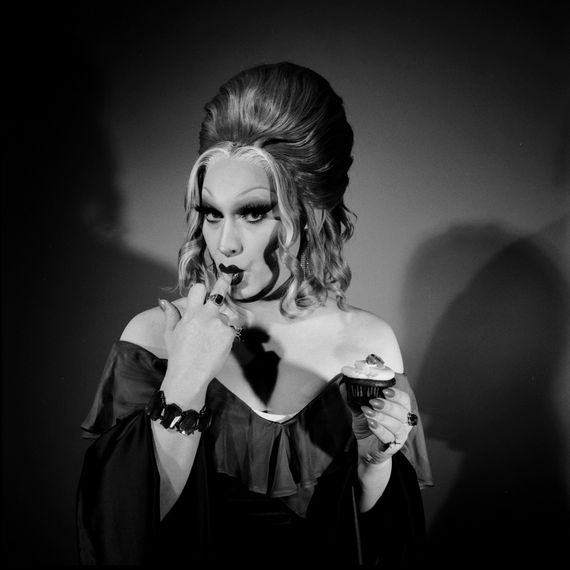 Monsoon and I go for a walk one morning in the park near the Williamsburg apartment she has rented for the eight-week run. Even out of drag, she looks like a storybook witch, dressed in all black with big Gucci sunglasses and unkempt orange hair. It's cold near the river, and we're both bundled up in scarves and furry coats, looking like babushkas — "little theydies by the water," she cackles, an expert read.
We stop by a corner bodega for a Red Bull and ginger shots. "Little potions," she calls them, before admitting that, yes, she identifies as a witch. "I always say witchcraft picks up where my therapy leaves off," she says, explaining that it has been a form of self-help. "My therapist might give me something they want me to practice or work on and then, if I'm not clear on how to do that, I might take to my witch books. My anxious brain can stop worrying about it because the spells are going to take care of it." She even brought a wand to our photo shoot.
Monsoon mostly goes by her drag name now, but growing up in Portland she was Jerick Hoffer, a name her mother gave her because she thought her child might turn out to be a football player  (speaking of magical thinking) and Jerick Hoffer sounded appropriately jockish. Instead, young Monsoon, the type of kid whom people like to call an old soul, got into acting and learned every line to the queer cult classic Death Becomes Her by age 7. "I don't know how many times I rented that movie for him," her mother says in a 2015 documentary about Monsoon's career beginnings, Drag Becomes Him.
On her first season of Drag Race, Monsoon shared that her persona, often a tipsy mommy of a certain age, was partially inspired by her tumultuous time with a substance-abusing single mom. "This is my way of making peace with a dark childhood," she said on the show. Luckily, there were people around her who got who she was and nurtured her in it. Her aunt gave her CD soundtracks to Rent and Mame, and her grandmother let her and her queer friends hang out and dress up at her house. Nearby was an all-ages club and a queer-youth center, where at 14 she did drag for the first time in public. "Everyone in my life knew I wanted to perform. It was coming for me," she says. "I wanted to play the female roles, so I had to start doing drag."
In high school, she fought her theater teachers for the opportunity to do so. For Romeo and Juliet, she auditioned as Juliet's nurse and ended up getting cast as Romeo's rival, Tybalt; for Into the Woods, she landed the role of Jack instead of one of the stepsisters. Later, she faced the same battle at Cornish College of the Arts in Seattle, where, because her family couldn't provide much financial support, she had to work as a janitor to pay the bills. When she asked to read for Queen Gertrude in Hamlet, her Shakespeare professor, a mentor who has since passed away, told her the audience would take it as an Oh look! A man in a dress! comedy instead of seeing her truly inhabit the role. "Basically, very playfully, it became my life mission to prove him wrong," Monsoon says. Still, there were glimmers of change in the culture: She did her senior-thesis performance as Hedwig in Hedwig and the Angry Inch, a touchstone for her developing queer identity. (Hedwig was a bit washed-up too, come to think of it.)
Her drag self came up in the Seattle nightclub scene. Her close friend and collaborator, BenDeLaCreme, remembers seeing Monsoon perform for the first time at an original vaudeville act staged in a Starbucks. "We both were like scraping for dollars, working constantly to keep the lights on," says BenDeLaCreme. "It was at like four o'clock in the afternoon, no charge, ten folding chairs and a keyboard. She and her musical partner came out of the bathroom. I literally leaned over to my friend and was like, 'I need to cast this queen in my next show because if we don't start working together and become friends, we're going to be rivals.'"
In 2012, when RuPaul's Drag Race was looking for contestants for its fifth season, BenDeLaCreme recalls, the show was just starting to attract the attention of local queens, not quite the juggernaut it would eventually become. "Jinkx and I and two other queens who we knew sort of sat down and said, 'Drag Race is clearly what's on the horizon. Is this something we want to participate in?'" she says. "I decided that it wasn't for me, and Jinkx decided she was going to go for it." (BenDeLaCreme changed her mind about the show after Monsoon's win and competed on season six.) On her audition tape, Monsoon introduced herself as "Seattle's hardest-working single mother."
When Monsoon was cast, she was just 24, and in the competition, she could be meek and unassuming. The other queens perceived her as a weirdo and bullied her a bit for not being a glamazon pageant queen. Also, she often took naps in the Drag Race workroom, blaming her narcolepsy. (The condition is real, she says, and she has learned to manage it partially with the help of naps, doing what she can to get a "deep sleep at night," and "upper strains" of marijuana.) As her competitor Detox told the cameras, "I don't know about that Jinkx yet. She's a little kooky."
She was awkward but fluent in the gay canon of tragic movie stars and cabaret longing, and she excelled when it came to acting and comedy. Notably, her impersonation of Little Edie won the Snatch Game, a recurring Drag Race challenge in which the queens impersonate a celebrity of their choice, leading guest judge Julie Brown to call her "the Meryl Streep of drag queens." (Bette Davis might've been more on point). As Carson Kressley, a Monsoon fan and frequent judge on the competition, told me, "Her comedic references, her visual references, her pop-culture references are very sophisticated. This is someone who's been on the planet for a long time even though she's quite young. She's an old woman inside." Most important, perhaps, Monsoon could always make RuPaul laugh, and in the end, she beat out powerhouse queen Alaska Thunderfuck (whose then-partner, Sharon Needles, had won the previous season) and pageant queen Roxxxy Andrews for the crown.
After Drag Race, Monsoon did the kinds of things that being on the show sets contestants up to do: She hit the nightclubs, traveled the world, released two albums — one inspired by Bette Midler and Marlene Dietrich, one, for some reason, ska inspired (she's a Portland girl, after all) — toured her variety act The Vaudevillians (in which she plays a 1920s sex kitten, Ms. Kitty Witless, who'd been preserved in ice and unfrozen with global warming), began an annual holiday revue with BenDeLaCreme, taped one of those as a Hulu special ("My Portland brain is like, We try to make aspects of our work accessible!"), recorded some podcasts, and landed a few guest-starring television gigs (Blue Bloods, Steven Universe).
Back home in Portland, she says, she became her family's "matriarch," their mother witch, and bought a house she named Monsoon Manor, where she keeps her grandmother's community-building traditions alive. "My friends come to nurse their heart after breakups, when they're down on their luck," she says. "It's a witchy little house. People like to party there. It's already got a reputation. Whenever I go to a party in Portland and I haven't been there for months, I'll meet someone who's like, 'Hi, you don't know me, but I had sex in the sauna at your house.'"
When she returned for All Stars, she was no longer the mousy 24 -year-old from before, and she had a slightly more refined sense of style — still Old Hollywood vintage but more polished. "Let's face it, being successful begets better drag," she said on the show.
"What Drag Race does is that it breaks you down to absolutely nothing. Everything you thought about yourself and how you do drag and your art form is demolished," says Kressley. "Jinkx left and worked and grew and learned and became more of herself and came back to All Stars saying, I know who I am now … Many queens do not get that far." As Monsoon says, "That was me being the most myself I've ever been on television."
This go-round, Kressley and the other judges — who, in the producers' edit, didn't critique the returning champions that season, making it all a bit boring to watch — didn't seem to mind Monsoon's Hogwartsian looks, though her castmates seemed occasionally peeved that she could succeed without knowing how to use a sewing machine. "Kind of cute for her," tut-tutted runner-up Trinity the Tuck during a challenge in which the queens were required to design their own dresses. When the category was "Spikes on the Runway," Monsoon wore something she described as "Norma Desmond meets Cruella de Vil playing the evil countess who made a dress out of porcupines." Monsoon's charms and seemingly genuine personality (especially for reality TV) prevailed and again she went viral for a very funny Snatch Game impersonation of Judy Garland. She was crowned the winner at the end of the season, after a perfectly acceptable performance in a lip-sync battle against Monét X Change. (As Ru likes to note, she chooses the winners.)
Talking to Monsoon on the eve of her Broadway debut, it's hard not to interpret the way she explains her drag career as a means to an end, or a beginning, such as this one. That's not to say she's not an excellent drag queen or passionate about her work. But she'd like to be, first and foremost, an actor. "When I found drag and when I went to college for acting, I thought I had to give up drag to be a serious actor," Monsoon tells me while sitting in the park. "My hope is that the audience spends very little time thinking about whether I'm a drag queen or a cis woman. I hope those who come to see Jinkx Monsoon perform this role get excited when I walk onstage and then very quickly realize it's not Jinkx Monsoon as Mama Morton. It's Jinkx Monsoon, the actor, playing the role of Mama Morton."
In the Academy Award–winning 2002 film adaptation of Chicago, Mama is played by Queen Latifah, and Monsoon says, "There's no freaking way I could or would want to re-create her performance." Indeed, on the night I went to see the show, she brought her own campy touches to the character, stomping around in a power suit with a pocket watch — "Mama's definitely bisexual," she'd told me — and reducing the whole theater to laughter when she ever so subtly pretended to pick some wax out of her ear while singing with Velma. Her wig is not too dragish, but still she's a drag queen, with the best beat face on stage. As she told me in the park, "I kind of just see drag as my gender identity. My drag self is just another form of me. I call it me in full witch form; that's me when the moon is full and the planets are aligned." She brings some spice to the second-longest-running musical revival on Broadway (after Phantom of the Opera) that in certain ways shows its age, as when, in a lasting confirmation of Monsoon's onetime Shakespeare's professor's concerns, there's a cheap laugh in the second act when one of the ostensibly female characters is revealed to be … a man in a dress! Jinkx Monsoon remains Jinkx Monsoon. And the rest of us remain spellbound.