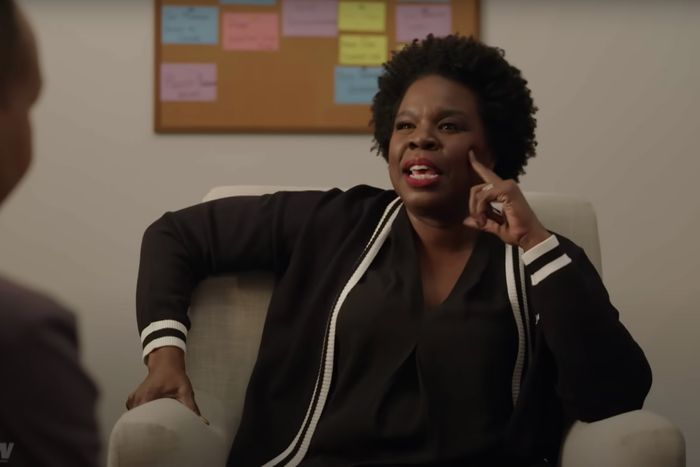 First things first: Nobody listened my plea against guest double bookings. Danny DeVito and his daughter Lucy hit both L.A. late-night shows this week, but they were a delightful nepo duo, so I'll let it pass. The game the father-daughter pair played on The Late Late Show made the list, but the anecdote Danny told on Jimmy Kimmel Live! deserves an honorable mention. You don't hear pro-bestiality songs on network TV very much, even after the watershed hour!
It was also a big week for hosts guesting on each other's shows. Leslie Jones went on Late Night With Seth Meyers before her Daily Show gig. The guy she's replacing, Trevor Noah, went on The Late Show With Stephen Colbert, and John Oliver went on The Tonight Show and sang LMFAO for some reason. If you like inside-baseball information about the biz, watch the Noah-Colbert convo. If you want to see yelling, check in on Jones. And if you want party rocking in your house, watch The Tonight Show. Here's what else rocked this week in late night.
5. The Tonight Show Learns That Taupe Is a Color
Many of the games on The Tonight Show have diminishing returns. Once you've seen one round of giant beer pong, you've seen 'em all. But this new game, "10 in 12," is a winner. First of all, its name seems to pay homage to Jay Leno's "10 at 10" segment. Reject modernity, embrace tradition. Secondly, it really gets people to dig deep in their brains. The first three words Jimmy Fallon can think of that begin with B? Balls, bat, bastard. Fascinating, psychologically speaking. Maybe he watched Inglorious Basterds before taping. Plus Fallon and guest John Oliver got so flustered they forgot whether taupe and mauve were colors. (They are.)
4. Daddy-Daughter Talk-Show Date on The Late Late Show
Danny DeVito is an anecdote machine. That's why his double dipping on talk shows this week wasn't too annoying. This game, essentially a daddy-daughter version of The Newlywed Game, was really just an excuse for DeVito to tell stories about doing tequila shots with Bruce Springsteen on his 50th birthday. As if you need an excuse to talk about that.
3. Jimmy Kimmel Live! Gets a New Character
Nelson Franklin whips ass, and I'm not afraid to say it. I want him leading a sitcom like yesterday. In the meantime, I'll settle for him joining the coterie of comedic actors who guest on Jimmy Kimmel Live! Franklin's George Santos joins James Adomian's MyPillow Guy and the GOAT Fred Willard's … anybody they needed in the political impression hall of fame. The choice to make it a walk-and-talk also gave Franklin a chance to do a lot of business while lying his ass off.
2. A Classic Triple on Late Night 
Nothing feels better to a comedian than doubling down on a joke that's not working — except perhaps tripling down on a joke that's not working, which is what this segment of "Jokes Seth Can't Tell" did. Three jokes were punctuated with music stings, each landing flatter than the last. But Amber Ruffin, Seth Meyers, and Jenny Hagel are the people you want around when a joke isn't performing the way you'd like. The way these three in particular delight in a bit failing is something I always look forward to. Do I look forward to it more than when their jokes land? It's a distinct possibility.
1. Leslie Jones Preps for the Job
Hosting The Daily Show means having to become a politics head almost instantly. Guest host Leslie Jones and Roy Wood Jr. gave a peek behind the curtain at the process of learning the names of a bunch of insane white people (and also Herschel Walker). This sketch set Jones up perfectly to bring her unique POV to The Daily Show, one where she yelled at the audience for random things and said chickens shit eggs out of their "bird pussy." Her brief time behind the desk was a breath of fresh air, and I was sad to see her go. Her version of "Headlines" worked better than almost any of Trevor Noah's entire hosting corpus. Leslie Jones, you're welcome back on my TV any time.