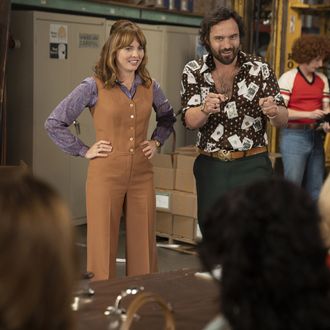 Minx
!
Photo: Katrina Marcinowski/HBO Max
Despair not, Minx fans and WBD truthers. The show may have gotten kicked out of HBO Max's house, but it's found family with Starz. After Warner Bros. Discovery canceled the show and removed its first season from the platform , Starz picked up its first and second season. The cancellation was announced in December as the series was wrapping up production for its upcoming season. Production company Lionsgate continued rolling while it found a new partner to air the show and promised to return. "I'm absolutely thrilled to be joining the STARZ family, and for the opportunity to introduce Minx to a brand new audience," creator, showrunner, and executive producer Ellen Rapoport said in a statement. "We've found the perfect home. Our writers, cast and crew have created something truly special in Season 2, and I can't wait for everyone to see it."
The fate of other shows removed and/or canceled by Warner Bros. Discovery in its cost-cutting rampage — including Westword, The Nevers, and FBoy Island — is still up the air. The company announced last month that it will license certain shows to free, ad-supported streaming TV (think Roku Channel and Amazon's Freevee), just softening the blow of HBO Max raising subscription prices by a dollar. At least Starz knows to bet on Jake Johnson.