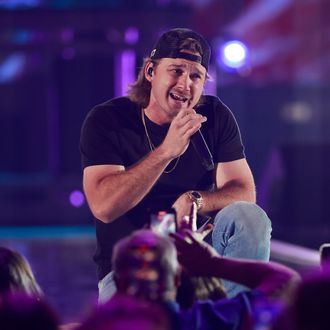 Photo: Michael Tran/Getty Images,
Nothing says "country star with nothing to hide" like announcing your long-awaited new album after 5 p.m. on a Monday — and that's precisely how Morgan Wallen is entering his next era. Nearly two years to the day after he said a racial slur on video, Wallen revealed that his next album, One Thing at a Time, will arrive on March 3. That's far from a fitting title; the album is promised to be "deeply personal" while blending Wallen's influences, from country to hip-hop to alternative music. Not to mention that it's a whopping 36 songs, with three that arrived on January 31: "Last Night," "Everything I Love," and "I Wrote the Book."
Those are just the beginning of the chaos. The album interpolates both the Allman Brothers on "Everything I Love" and Young Thug on "180 (Lifestyle)." And before you think Nashville isn't standing for this comeback, just look at the credits. Eric Church is featured on "Man Made a Bar," while Miranda Lambert co-wrote "Thought You Should Know," a single from last May. The album also features a number of co-writes from Ashley Gorley, Ernest, and Hardy, songwriters who have stood by Wallen since his N-word controversy, with Ernest also featured on "Cowgirls" and Hardy on "In the Bible." (These titles are a true parody of country music.) "I just try to tell it how it is — the good, the bad, the love, the heartbreak. That's all I know how to do," said Wallen, who has proven he knows how to tell it a few other ways, too, in a press release.
The comeback has been imminent for over a year, ever since Wallen returned to arenas and stadiums, welcomed with sold-out shows. His bans on country radio and at awards shows didn't stick, with Wallen earning multiple No. 1's since the incident and winning Album of the Year at the ACM Awards — never mind that his last album, Dangerous, has barely left the top-ten of "The Billboard 200." Next, he's already set for a 63-date tour beginning just days after the album's release. "My hope is that this album makes my fans proud; makes 'em laugh, smirk, cry, and think — just like it did for me," Wallen said. Think … about listening to it in the first place, maybe?
This post has been updated throughout.