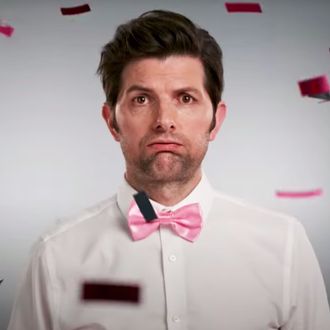 Fun!
Photo: STARZ/YouTube
Party Down has been off the air for nearly 13 years, which means that the hiatus between seasons two and three is old enough to have a bat mitzvah catered by Party Down. The cult-classic workplace-comedy series is making its long-awaited return to Starz next year, and now it has a premiere date: Friday, February 24. This save-the-date was announced via a teaser trailer on Twitter, showing the cast gearing up yet again in their baby-pink bow ties. Are we having fun yet? Of course we are! Those bow ties are nothing short of nostalgic. Luckily, the reboot looks to be aiming to keep much of what made the original so fun, with a great new guest cast and by forcing you to purchase Starz to watch. "This is no joke," promises the trailer. "This is catering." Below, find everything you need to know about this catering group's 13-year reunion.
Party Down? It's been a while.
Party Down was a Starz series that aired its first two seasons in 2009 and '10. It followed a group of caterers with big dreams and bigger personalities. The group was nominally led by an incompetent manager and featured Henry, a now-out-of-work actor who starred in an iconic beer commercial during which he asked, "Are we having fun yet?" And, while Henry rarely managed to have fun, the audience always did.
Who's coming back from the original cast?
The original cast of Ken Marino, Adam Scott, Jane Lynch, Martin Starr, Ryan Hansen, and Megan Mullally are all unloading cases of champers, poppin' bubs, and raining confetti on each other this season. Original cast member Lizzy Caplan could not make it to the party, on account of having to help Fleishman out with all of his Trouble.
And who else is going to be there?
Because each episode of Party Down revolves around a new catering event, there are ripe opportunities for guest stars, and season three of this reboot is no exception. Dan Bakkedahl, Quinta Brunson, Liv Hewson, Fran Kranz, Ki Hong Lee, Lyric Lewis, Bobby Moynihan, Nick Offerman, Judy Reyes, and Calum Worthy have all been announced as guest stars.
Plus, we're getting a slew of new cast members as well, with Jennifer Garner, Tyrel Jackson Williams, and Zoë Chao all added to the cast and with James Marsden in a recurring guest role.
When's the date for this party?
There are so many questions that await us before season three. How could Soup R' Crackers survive in a post-Souplantation world? How could Kyle (Hansen), a relic of the aughts, make any headway in today's Hollywood? Has Roman (Starr) become an incel? But most important, of course, is when can you get in on this? The season will premiere on Friday, February 24, over on Starz, and consist of six new episodes. So hop in the big pink van and let's go!