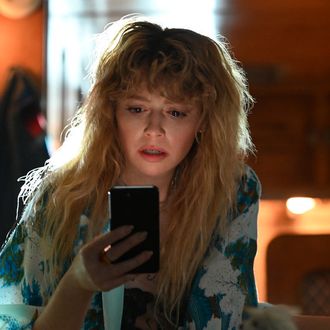 Charlie when she sees she has to pay for Peacock.
Photo: Peacock/Phillip Caruso/Peacock
If you've been holding off on signing up for Peacock to watch Rian Johnson's Poker Face starring Natasha Lyonne, well, you'll have to pull out your wallet if you want to get caught up in the mystery. Peacock has announced that new users to the platform must pay for the ad-supported ($4.99 a month) or the ad-free plan ($9.99 a month). Previously, it was free to sign up for the ad-supported plan; legacy free users will continue to have access to the service. According to The Hollywood Reporter, the changes to the platform reflect the company's shift to its premium services and its upcoming content, including Poker Face, The Traitors, and Pitch Perfect: Bumper in Berlin. This update comes as other competitors like Paramount+, Showtime, and HBO Max are revamping their own subscription services. Will this paid subscription mean safety for its original programs? Or will they get cut just like the others? Only Charlie can call Peacock's bluff.