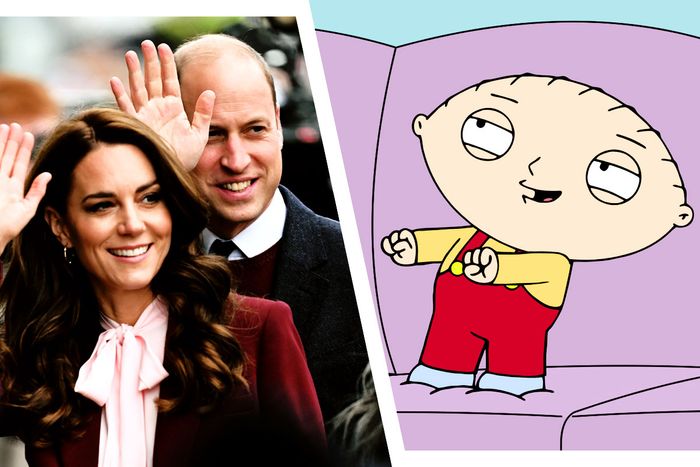 Harry's high thoughts? Winning stuff.
Photo-Illustration: Vulture. Photos: Samir Hussein - Pool/WireImage; Fox
Prince Harry's new memoir, Spare, is the literary equivalent of the tea going cold and the crumpets being a bit too stale. Sure, there's never enough gossip to satiate palace intrigue, but Harry and his wife, Meghan Markle, had already done a tell-all interview with Oprah Winfrey in 2021 and a tell-even-more Netflix docuseries in 2022 — making Spare more of a recap than exposé. Still, Harry is gingerly game to inject some Crown into the House of Windsor. We'll spare you the long read and tell you the winners and losers.
Loser: Prince Andrew
When security services were pulled from Harry, Meghan, and their newborn, Archie, in February 2020 — a "government decision," his brother William alleged — Harry couldn't help but think about who still did have protection: His disgraced uncle and Jeffrey Epstein associate, Prince Andrew. "He was embroiled in a shameful scandal, accused of the sexual assault of a young woman, and no one had so much as suggested that he lose his security," Harry writes.
Sickest burn: "Whatever grievances people had against us, sex crimes weren't on the list."
Winner: Stewie
With whom Harry shares an "inexplicable bond" — when he's smoking weed and super-high, at least — because the Family Guy character is a "prophet without honor." He also compares William to Stewie on one occasion in a derogatory way.
Loser: Camilla, Queen Consort
Harry claims that his stepmother — whom he and William begged his father not to marry — has always been the most cunning royal when it comes to tabloid coverage, so much so that she frequently leaks details of the Windsors' lives to members of the press in exchange for favorable coverage of her own. "Stories began to appear everywhere, in all the papers, about her private conversations with Willy," Harry writes, "stories that contained pinpoint accurate details, none of which had come from Willy, of course." Camilla's alleged behavior — which, according to Harry, dates back to the start of her relationship with Charles after Diana died — was reflected in a top member of her and Charles's shared communications team, who "devised and launched a campaign of getting good press for Pa and Camilla at the expense of bad press for us." All that, and she turned Harry's bedroom into a dressing room after he moved out. "I tried not to care," he admits. "But, especially after the first time I saw it, I cared."
Sickest burn: "She began to play the long game. A campaign aimed at marriage, and eventually the Crown."
Winner: Pixar
Following his first date with Meghan, Harry — having arrived 30 minutes late due to traffic and believing he ruined his chances as a result — commiserated with a friend afterward by drinking, smoking, and watching Inside Out. "An animated movie about emotions," he says. "Perfect. I was thoroughly inside-out." Meghan FaceTimed him mid-film and was confused as to why he was "watching cartoons."
Loser: Kate Middleton, Princess of Wales
Harry recounts how Kate felt a sense of malaise around Meghan and how the relationship among the "Fab Four" fissured because of it. Kate, for instance, was upset that the couple didn't bring her gifts for the Easter holiday one year, and also insisted that she was "owed an apology" after Meghan mentioned her post-baby mind-set in a private conversation. "We're not close enough for you to talk about my hormones!" Kate told Meghan in front of their spouses, Harry writes. Prior to that, Kate voiced several "problems" she had with the arrangements for Meghan and Harry's wedding, which he chalks up to American versus British cultural differences. Oh yeah, and Kate (with William) allegedly encouraged Harry to wear a Nazi uniform to a mid-aughts costume party.
Sickest burn: "She loved clothes."
Winner: Friends
Harry, who identifies as a Chandler, mentions his "fanatic" love of the NBC sitcom four times in the book. "I think I watched every episode of Friends in 2013," he writes. He cites "The One With Monica and Chandler's Wedding" as a particularly good underwear-folding episode. He would go on to be a guest at Courteney Cox's home in Los Angeles in 2016: "The idea of crashing at Monica's was highly appealing. And amusing." While there he took magic mushrooms — a "trip" that crescendoed with a talking toilet that had its own head.
Loser: King Charles
Harry accuses his father of being complicit in enabling Camilla's fixation with the press, so much so that William and Kate thought they were being "trapped and unfairly persecuted" by the couple. "Pa and Camilla didn't want Willy and Kate drawing headlines away from them or their causes," Harry writes. "They'd openly scolded Willy about it many times." Charles was also "furious" with Harry's crusade against the racist tabloid coverage surrounding Meghan, because it made him "look bad" that he didn't do such an action for Camilla. "What he couldn't really stomach was someone new dominating the monarchy," Harry continues, "grabbing the limelight, someone shiny and new coming in and overshadowing him." Without warning, he cut Harry off financially when the couple were left with few resources in early 2020, a decision his son says made him "fatted for the slaughter."
Sickest burn: "He wasn't great at showing emotions under normal circumstances, how could he be expected to show them in a crisis?"
Winner: Will Arnett
Harry was so starstruck meeting the voice of Batman in The Lego Batman Movie, that he repeatedly asked Arnett to say "Hello, Harry" to him at a party. "He wanted to say no, but he didn't want to be impolite," Harry remembers. "Or else he recognized that I wouldn't stop."
Loser: Prince William
In 2019, William allegedly physically attacked Harry during an argument about Meghan, who William thought was "difficult," "rude," and "abrasive" — and whom he previously pleaded with his brother not to date. The attack left Harry with scrapes and bruises on his back. William appeared to be most susceptible among the Windsors to believing tabloid stories about Meghan, with Harry recalling that "he was just repeating the press narrative, spouting fake stories he'd read or been told." He also told Harry that his therapist was brainwashing him, which Harry believes was William's strategy to discredit Harry's wellness among the family.
Sickest burn: "My dear brother, my archenemy, how did we come to this?"
Winner: Suits
When Harry first told William and Kate about his romantic relationship with Meghan, they responded with genuine shock and delight. Turns out, they were "religious" Suits watchers who knew every detail about the exploits of her paralegal character, Rachel Zane. "Now I had to worry about them hounding her for an autograph," Harry recalls.
Loser: Bad tattoos
A drunken Harry was held back, physically, from getting a foot tattoo of Botswana during a boys' trip to Las Vegas in 2012. He thought it would honor his "sense of carpe diem." His friends disagreed.
Winner: BrainyQuote.com
Harry was "thunderstruck" to discover a William Faulkner quote on the website that was relatable to him — "The past is never dead. It's not even past" — enough to include it 17 pages in.