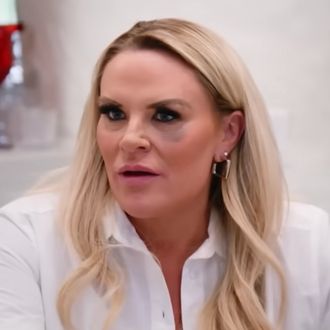 It looks like it hurt.
Photo: Bravo
The biggest mystery from this season of The Real Housewives of Salt Lake City wasn't whether Jen Shah was guilty; it was the source of Heather Gay's black eye. Ever since the bruised eye premiered in the season's first trailer in August, viewers have theorized about what could have possibly happened: Did Jen hit her "friend"? Was it a peanut allergy? An accidental fall? Or, more interestingly, did Gay and Shah have some rough sex? Why won't Gay just tell us what happened? Months later, it turns out Gay couldn't reveal the source of her injury because she (still) has no idea what happened. During part one of the RHOSLC season-three reunion, Gay is confronted by host Andy Cohen, who asks if she thinks Jen punched her. Gay denies it, finally blaming the incident on herself. "I blacked out," she says. "I don't know what happened."
Cohen and castmate Lisa Barlow were both quick to note that it "looked like you were assaulted," pointing to the scratches on Gay's arms and hands. But Gay stuck to her story. "It was terrifying," she said. "I have a lot of Mormon shame about drinking, and I've already dealt with a lot of it on the show. Now it's public, and I'm waking up with not a friend in the world with a giant black eye. I woke up in a very, very high-stress situation with so much shame and humiliation. There was no way to hide it, and I went to my thing, which is just humor and, like, just make it go away. And it didn't go away, but I certainly do not want to implicate anyone here, anyone on production. It's my own guilt and shame about blacking out and not being able to explain it."
Still, Gay's story doesn't seem to line up with statements from earlier in the season. In episode 13, she alluded to knowing what happened to her cousin and current enemy Whitney Rose, saying, "I think we all know what happened. I just think we don't want to talk about it." Bravo was so invested in this story line and getting to the truth that it launched an investigation, Cohen shared, but said "there was no additional footage" with any new information. Will we ever find out how Gay actually got her black eye? Whatever the case, she needs a new story line ASAP.