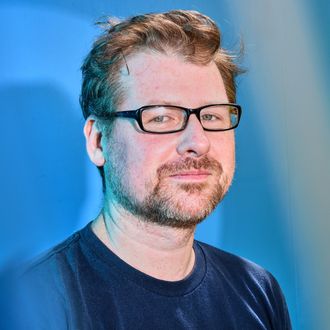 Formerly both Rick and Morty.
Photo: Irvin Rivera/Getty Images for IMDb
On January 24, Adult Swim confirmed the network would be cutting ties with Justin Roiland going forward. "Adult Swim has ended its association with Justin Roiland," read a statement posted to the official Rick and Morty Twitter account. "Rick and Morty will continue." Roiland, co-creator of Adult Swim's animated comedy Rick and Morty, recently appeared in court for a pretrial hearing in Orange County after being charged with two counts of felony domestic violence. Per a report in The Hollywood Reporter, sources say Roiland, who plays the roles of both the show's primary protagonists, will be recast, and Dan Harmon will now be credited as the series' only showrunner. Rick and Morty was given a 70-episode renewal in 2018, through season ten.
Roiland's charges include one felony count of domestic battery with corporal injury and one felony count of false imprisonment by menace, violence, fraud, and/or deceit. He was charged by an anonymous Jane Doe for an incident that allegedly occurred on January 19, 2020. He has pleaded not guilty to the charges he's facing, and the outcome of these legal proceedings is pending.