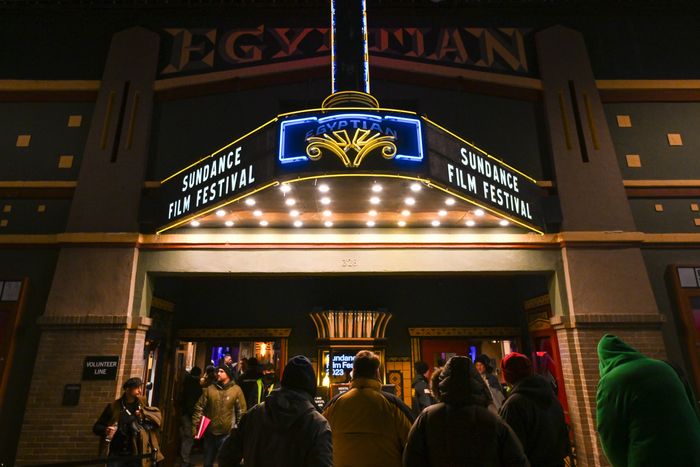 Photo: Jim Bennett/Getty Images
With late January's winter doldrums ushering in the first in-person edition of the Sundance Film Festival since 2020, North America's most vigorous marketplace for indie cinema faced certain existential questions. Among them: Would last year's Terrible, Awful, No Good, Very Bad Netflix Downturn have a chilling effect on commerce for art-house fare? After two years of virtual proceedings, doubt lingered that the unique, butts-in-seats enthusiasm known as "the Sundance effect" could still persuade acquisitions execs to swing wide the corporate checkbooks as it had for ecstatically received future flops like Hamlet 2 and Brittany Runs a Marathon. Or might a looming entertainment-industry writers' strike stoke a feeding frenzy among content-hungry streamers and studios? And, months removed from Sundance darling CODA landing the Best Picture Oscar after commanding a festival high of $25 million — thereby cementing Sundance as a launching pad for awards-bait audience pleasers — would record-breaking sales continue as the new norm?
As the sun set behind the Wasatch Mountains on Sundance's tenth and final day, a spate of in-festival sales remained as testament to both the festival's ongoing vitality and the overall health of an industry in transition. Distribution deals for a pair of titles — the horny financial drama Fair Play and the feel-good musical rave-up Flora and Son — were at or near the $20 million mark, placing them in the all-time top percentile of Sundance agreements. Streamers were overshadowed by brick-and-mortar theatrical distributors in terms of the sheer number of deals made, though Netflix notably drew first blood during fest proceedings and, along with Apple TV+, bid highest. According to four insiders with knowledge of this year's festival sales and acquisitions (who spoke with Vulture on condition of anonymity due to ongoing business sensitivities), Sundance returned to something close to its 2017, pre-coronavirus form with several all-night bidding wars, multiple eight-figure deals, and a wide array of documentary and feature films finding homes across the movies ecosystem (bought by such usual suspects as A24, Sony Pictures Classics, and Magnolia Films).
Which is all to say that even amid the recent box-office floppage of adult-oriented dramas like Armageddon Time and She Said, and with Hollywood still reeling from scorched-earth layoffs at media behemoths including Warner Bros. Discovery, NBCUniversal, Netflix and the Walt Disney Company, Sundance remained ineluctably Sundance: a thriving documentary clearinghouse and discovery fishbowl for emerging talent. "Ultimately it's the same as it ever was," says one veteran film financier. "Every year, everyone says, 'We have a ton of money.' Or, 'We have no money.' Everybody runs their business and manages their spending. Inevitably there are one or two things that no one can sit still until they have. There's the magic of Sundance: the magic movies, in-person gossip, creativity. It's a festival of discovery. It's why we go regardless of how cynical people in L.A. or New York are before they arrive."
Things got off to a pulse-quickening start on the fest's opening day with Netflix snapping up distribution rights to the disquieting, Sarah Snook–starring Midnight section entry Run Rabbit Run for an undisclosed sum just hours before its Egyptian Theatre premiere. A day later, for an also-undisclosed price, the rockumentary Little Richard: I Am Everything sold to Magnolia/CNN Films, the longstanding distribution partnership behind the rollout of acclaimed docs including RBG, John Lewis: Good Trouble, and the previous Sundance sensation Blackfish.
But it wasn't until temperatures in Park City dipped into the single digits on January 21 that things started to seriously heat up. Seven bidders including Neon, Searchlight, Lionsgate, and Netflix began making a serious play for Fair Play, Chloe Domont's feature directorial debut following Alden Ehrenreich (Solo: A Star Wars Story) and Bridgerton breakout star Phoebe Dynevor as hot-to-trot junior investment analysts working at a cutthroat Wall Street firm. When a coveted promotion opportunity arises, the Bloomberg Terminal–crossed lovers' seemingly insatiable carnality curdles into something more menacing, upending the power balance between them. As cast and crew sat down to a post-premiere dinner Saturday night, filmmakers (represented by MRC Entertainment) were already fielding multiple offers. The dealmaking dragged on across two long days and nights with Netflix emerging victorious, procuring global rights for $20 million — the second-largest price ever paid for a Sundance title (demoting the $17,500,000.69 that Hulu paid in 2020 for the Andy Samberg time-travel dramedy Palm Springs to third).
The dealmaking continued apace with another, lower-stakes bidding war for the satirical mockumentary Theater Camp, a crowd pleaser greeted by a standing ovation at its January 21 Eccles Theater premiere. Starring real-life partners Ben Platt and Noah Galvin, along with the film's co-director Molly Gordon, the film follows lifelong drama-geek buddies who return to help resurrect a Stagedoor Manor–like performing-arts center that has fallen on hard times (the movie's improvisational in-jokes center around tortured-artiste tropes, "let's put on a show" tricks of the trade, and Serious Thespian posturing). Once again, an all-night bidding war yielded what one insider piquantly characterized as a "compressed competitive environment that was in many ways like what we've seen in other years" — a jargon-y way of saying it was business as usual at Sundance. Searchlight, with its explicit commitment to theatrically distribute Theater Camp, landed worldwide rights for $8 million.
Another pair of weighty documentaries, The Eternal Memory and Nam June Paik: The Moon Is the Oldest TV, sold respectively to MTV Documentary Films and Greenwich Entertainment for undisclosed sums. A24 bought the Australian indie-horror entry Talk To Me — a mordant, cliché-free genre exercise following a group of high schoolers who become obsessed with a freaky séance experiment — for a "number in the high seven-figure range." (The film's director duo, Michael and Danny Philippou, known by their YouTube nom de plume RackaRacka, also landed heavyweight representation from Big Three Hollywood agency WME at the festival). And Amazon, which spent $46 million on a wild Sundance spending spree in 2019, emerged from this year's fest with but a single title: the Midnight section World War II–set Filipino drama In My Mother's Skin (price undisclosed).
Although director William Oldroyd's elegantly jarring adaptation of literary powerhouse Ottessa Moshfegh's 2015 novel Eileen arrived in Park City as one of this year's buzziest acquisition titles, the period drama — which features what is being widely hailed as an awards-worthy supporting turn by Anne Hathaway — had not sold by the close of festival proceedings Sunday. Likewise, Magazine Dreams, the provocative bodybuilding drama, calibrated around a breakthrough body-dysmorphic performance by Jonathan Majors, stunned its premiere screening audience into silence last Saturday and was still fielding offers as of this writing.
Sundance '23's final megadeal began unfolding on Sunday, January 22, and didn't close until 1 a.m. the following Tuesday, according to a person with knowledge of the situation, a grinding back-and-forth that ultimately netted close to $20 million for Once director John Carney's Flora and Son. With significant parts of its dramatic arc playing out across Zoom, the wistful and big-hearted musical drama is plotted around a Dublin nanny (Eve Hewson) trying to forge emotional inroads with her troubled teenage son (newcomer Orén Kinlan) through a shared love of spiky pop-rock. (Joseph Gordon-Levitt dials in a supporting role as her guitar teacher.) According to Deadline, Apple and Amazon "battled to the end" in pursuit of the film, with Apple ultimately edging the win. That was in large part thanks to its recent track record of success with CODA and its baked-in connection to Hewson as streaming home to the Irish black comedy series Bad Sisters, in which she stars.
"Across the board, there were a lot of different styles of deals," notes one agent representing multiple titles that played at the fest. "In 2021 and 2022, streamers were the only ones with the confidence to still buy things while theatrical players were saying, 'We've still got to figure things out.' But this is great that we're seeing Searchlight and Sony Pictures Classics come back to the table. I'm negotiating with [theatrical distributors' names redacted] on things. It's back to hybrid streamer plus theatrical deals. I'm happy we're coming back to that."