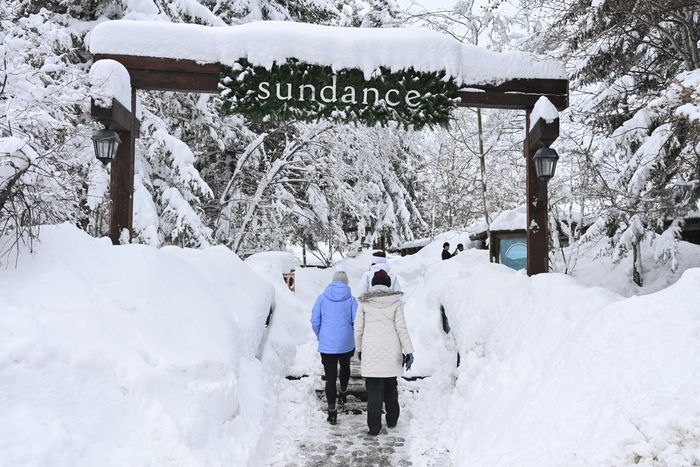 [
Indigo Girls Voice
] We went back to the mountains and found some pretty good Armie Hammer jokes.
Photo: Mark Sagliocco/Getty Images
Sundance's first in-person film festival since 2020 kicked off last night, on Thursday, January 19, a date that will be known to future generations as the day the movies died. The gods of cinema (Robert Redford, Regal corporate) giveth — and they taketh away. But I didn't have time to mourn the loss of my Union Square 14, with its feat-of-engineering 4DX motion-sickness chairs, because I was headed to Park City, Utah (population: 8,457; elevation: 7,000 feet).
Sundance is a storied institution and the United States' only player in the big-five film festivals, next to Venice, Berlin, Cannes, and the African bush elephant TIFF (wrong big five). Sundance distinguishes itself from these other festivals in a number of ways. It is younger, and would like to think of itself as more eclectic, with a focus on independent films. Of course, this scrappiness, this focus on first-time and indie filmmakers, has been overshadowed in recent history by the fest's newer rep of being a place where massive sales take place: Fox Searchlight bought N*te P*rker's The Birth of a Nation for $17.5 million in 2016; then, in 2020, Hulu bought Andy Samberg's Palm Springs for a very nice $17.5 mil … and 69 cents. Apple leaped past these others in 2021 with a bid of $25 million for CODA, which went on to win a Best Picture Oscar. There's gold in them there ski hills.
But that last acquisition (the biggest ever, the one that built upon Sundance's very strong Oscars track record outside of streamer wins) wasn't celebrated with lodge Champagne — because the 2021 fest took place mostly on people's laptops or, if they've got $25 million–for–a–movie spending money, presumably their home-theater setups. As did the 2022 festival, which was supposed to have been in person until Omicron shut it down. Now the festival is back in Park City, and the people and studios and brands that make it happen are itching to congregate in dark theaters and bright, vaguely alpine-themed restaurants. I'm here to slink into these places and watch it happen.
The Ascent
Veterans of the festival will tell attendees to drink plenty of water to prevent altitude sickness. I find that consuming two black coffees, one Diet Coke, and one extended-release Sudafed will open up your airways as wide as soup cans. After a delayed flight to Salt Lake City, during which I sit near the rear of the plane playing a game of Mormon or Industry?, I hail an Uber to take me up the proverbial and literal mountain. The driver spends most of the journey monologuing about the cost of his car's special features — until we're 40 minutes in and most of the way up the ascent and he tells me he's completely blind in one eye. Slay! Five stars.
I get to the press-badge-pickup place two minutes after closing and am told I'll need to return at 8 a.m. the next morning. I have about 90 minutes before I am scheduled to be on (or, more accurately, adjacent to) a red carpet for the festival's first big event: "Opening Night: A Taste of Sundance," presented by IMDbPro. I've been told by my Park City housemate that a shuttle will take me straight to our rental, but when I pull up the shuttle map, I find that it has about as many different-colored routes as the MTA and that I don't have enough oxygen in my brain after all to decode it. I begin what Google tells me will be a 25-minute walk instead, only to learn that a New York 25 is a Park City 35 when you're dragging luggage through snow, uphill, navigating a network of interconnected parking lots.
Dress Code: Mountain Chic
The dress code for tonight is "mountain chic," and I hope that reapplying deodorant and changing into better pants meets the assignment. The opening-night gala, in which awards will be presented to filmmakers such as Ryan Coogler and Luca Guadagnino, is taking place at the Basin Recreation Fieldhouse, which isn't just a 2010s Brooklyn-ish name for a trendy venue — it's an actual community field house. I'm thrown into the press line and immediately start talking to director Boots Riley (Sorry to Bother You), who is maybe the only person at the entire event actually demonstrating "mountain chic," wearing a big fur coat. "This is something a teddy bear would wear," he says, I guess to imply that it's not real-bear fur. "And I can hide food in my hat." I like this stylish nod to survivalism since most other people seem to have simply added a scarf to the outfit they would otherwise have worn to a gala. (Ben Platt, to be fair, is wearing a shearling coat. With his beard and sad, sweet eyes, it gives the effect of Ikea monkey.)
Behind me, I hear W. Kamau Bell geeking out over the presence of Daniel Dae Kim. "It's Daniel Dae Kim! What? Is he a hologram?" he says. "I'm three feet from Daniel Dae Kim, and he's hugging my wife!" A moment later, I hear him say, "I've always been like, 'Jin is being unfairly portrayed.'" Stars! They're just like us! Still hung up on Lost. 
It hits me when I'm midway through complimenting Guadagnino on the blue-studded color under his Prada sweater that I don't think I've eaten anything but a Delta economy bag of Sunchips in 15 hours and that I am no longer making sense to any of these people. So I make my way to my table, where I'm seated next to a couple of women who work for a charitable foundation sponsoring the Sundance Institute and across from the director (Maryam Keshavarz) and two stars of The Persian Version, an extremely fun-looking movie about an Iranian American woman navigating opposing cultures when her family reunites in New York City. Keshavarz tells me that the movie is full of singing and dancing, and she and her stars might break out some moves at the premiere. I say something about M3gan that falls totally flat.
Dakota Johnson Makes a Cannibal Joke
Dakota Johnson presents the first award of the night, the International Icon trophy, to Guadagnino and winds up to it with a speech that has me convinced she should be the only person to host the Golden Globes. When she brings up Call Me by Your Name, she says, "Sadly I wasn't in that one. Luca had asked me to play the peach. There was a scheduling conflict. Thank God, because then I'd be another woman Armie Hammer tried to eat." DAKOTA!!! I scream. Just like that time she locked people inside a Blue Bottle coffee, she's got this whole room held captive.
Next, the Vanguard Award, presented by Acura, goes to Bell for We Need to Talk About Cosby, because Acura needs you to know that its premium-brand sedans believe women. Bell's acceptance speech is centered on him being a "weirdo," and he says weirdo so many times that it starts to sound like that Cole Sprouse Jughead monologue from Riverdale season one.
The other awards go to Nanny director Nikyatu Jusu, who shouts-out Jason Blum, and Coogler, who is very shy and charming. When Lena Waithe presents Coogler with the award, she used the phrase the King's English. Is this what we're calling it now?
The Indigo Girls Arrive
Last on the program is a performance by the Indigo Girls because there's a documentary about them in competition this year. Keshavarz is giddy. "This is crazy!" She says. "We have an Indigo Girls song in the movie!" She tells me she has no idea they'd be there, and I tell her she has to find them and invite them to her premiere.
Before the Indigo Girls get onstage, Amy Ray tells me the screening she's most excited for at the festival is Seneca–Cayuga Nation filmmaker Erica Tremblay's Fancy Dance. Emily Saliers says she's most excited to watch screenings on her laptop. A relatable bard. As they move through their set from "Go" into "Galileo," seemingly every woman in the room — and about one-twentieth of the men — makes their way to the front of the stage, forming a little folk-rock mosh, swaying and singing along. This must be what Sundance was like in the '90s, I think — and then my eye catches a giant Acura logo.I make my way back to the table, and one of the philanthropic-foundation girlies tells me there's someone at the table she wants me to meet: It's Eugene Hernandez, who is the Sundance Institute's director and head of public programming. He tells me he just came from the screening for Radical, which, with its "based-on-a-true-story–ness" and "inspirational-teacher-who-changes-lives–ness" will probably end up as Oscar bait (my thoughts, not Eugene's). He says he's so happy to be back in person and that Sundance is "not summer camp but winter camp." You pick up with friends you see once a year, right where you left off.
He tells me the festival has changed over the years, but that might also be because he's changed; 30 years ago, he came to Sundance and stayed at a hostel called Chateau Apres, which is still around. There was a snowdrift up to the second floor, and he and his friends jumped off the balcony into it. Thirty years later, they're all still involved in the festival and independent film somehow, though no longer jumping off balconies. But that, to him, is the spirit of Sundance as a festival. It sounds remarkably similar to Ski School, which is about as far away from a Sundance movie as you can get.
Tomorrow: Rupi Kaur, brand activations, and the descent into "disruption."
This article originally appeared in our subscriber-only Sundance newsletter. Subscribe now to unlock more from New York and Vulture.