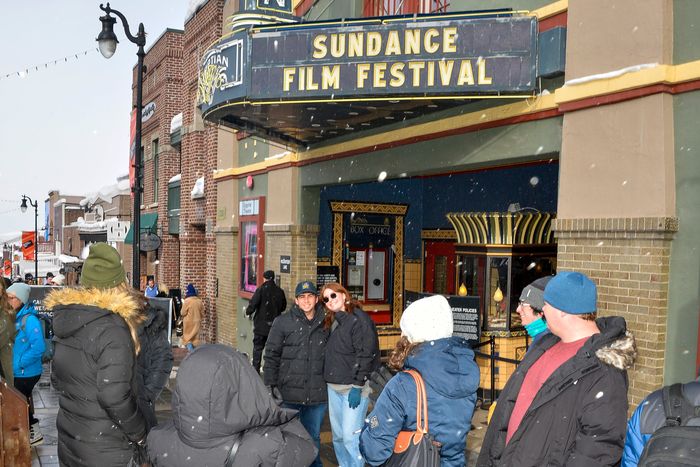 Photo: Jerod Harris/Getty Images
During the pandemic era, North America's preeminent showcase for independent cinema here in Park City, Utah, grew to its largest cultural footprint to date. The Sundance Film Festival set back-to-back sales records, became a dominant content provider for the streaming wars, and saw one of its competition titles claim a Best Picture Oscar for the first time ever. It also, simultaneously, shrank to near nonexistence, at least from a participatory standpoint. The festival hoards stayed away from this tiny ski hamlet at the base of the Wasatch Mountains for two years due to justifiable fears of a superspreader event. Gone were the alpine-chalet bidding wars, the shuttle-bus FOMO, and the frenzied paroxysms of cinematic discovery emanating from the Eccles auditorium into the wider world through Movie Twitter. Absent were the ambush marketing, swag suites, and influencer sightings that had become inextricable parts of the increasingly commercialized Sundance experience. The Sundance Film Festival was everywhere (anywhere there was a computer, at least) and, therefore, nowhere at all.
Now, after 2021's and 2022's entirely virtual proceedings — during which movies were screened for press and industry via video links and premiere parties unfolded inside festival-distributed Oculus Quest 2 headsets (including a "space station" clubhouse navigable only by one's cutesy digital avatar) — Sundance is back for an IRL iteration just in time to suffer what could fairly be described as an identity crisis.
Two years removed from the coming-of-age musical-drama CODA getting snapped up by Apple TV+ for an eye-watering festival high of $25 million and going on to capture the top prize at last March's Academy Awards — the only Sundance film to ever do so, in addition to the first streaming title — the entire movies ecosystem has been wobbled by the "Great Netflix Correction." That precipitous drop-off in streaming subscribers (with its resulting revenues decline, mass layoffs, and production and content-acquisitions attrition) has the very real potential to compel what some industry observers fear could be widespread purse tightening by streamers including Netflix, Amazon, and Hulu (which paid a previous festival record of $17,500,000.69 for the Andy Samberg time-travel comedy Palm Springs in 2020).
Moreover, at a time when one might expect executives from festival-mainstay distributors such as Sony Pictures Classics, Neon, A24, Lionsgate, and Searchlight to wander Main Street wondering aloud, "Where's my CODA?," the festival's dealmaking calculus is clouded by the looming threat of a writers' strike. According to sales agents who spoke with Vulture on condition of anonymity, just the "hypothetical" of a strike is likely enough to ramp up the bidding this year. But it has been lost on no one heading up to Utah that art-house movies such as She Said, Armageddon Time, and Tár have recently languished at the box office, and the kind of adult-oriented indie fare Sundance specializes in faces longer-than-ever odds of landing theatrical distribution. Sundance '23 also took the unusual step of canceling its New Frontier program, the boundary-pushing section that has showcased digital installations and emerging innovations in storytelling such as virtual and augmented reality for the past 15 years. On top of all those countervailing cultural winds, former festival director Tabitha Jackson left a power vacuum — Sundance now functions on interim leadership — when she stepped down in June after stewarding the two virtual festival editions. The latter of those years featured the documentary Jihad Rehab, which became a lightning rod for its depictions of Muslims and for which festival bosses later apologized. (Jackson's successor, Eugene Hernandez, will begin his tenure in 2024 after fulfilling his contractual commitment as executive director of the New York Film Festival.)
Eric Sloss is the veteran sales agent and Cinetic Media head honcho whose decades of deal-making in Park City include hammering out distribution agreements for such Sundance breakouts as Napoleon Dynamite, Little Miss Sunshine, and Banksy's Exit Through the Gift Shop. He's optimistic that 2023 could represent a watershed for the festival, heralding a kind of industry-wide rightsizing after a period of acquisitions imbalance. "The last several years have been extremely good but, in a way, very polarizing," Sloss says. "We've had really, really big sales on the high end. And then there were a number of films that either sold for not much money or not at all. What I'm hoping is that this year offers some kind of correction. We have hopes there will be more energy from theatrical buyers that animate a more robust market top to bottom instead of just several films selling for lots and lots of money and everybody else picking up scraps."
On the flip side, one consummate Sundance insider (who spoke on condition of anonymity because of industry sensitivities) feels the festival faces almost impossibly high expectations as both a discovery showcase and movies marketplace while things return to a new normal. "This is a crucial year for the festival," says this insider, who estimates Sundance '23 will operate at 80 percent the capacity of its pre-pandemic days. "Any time an event like this gets paused for any length of time, it will inevitably be altered and changed. Then you take the pandemic and the changeover in personnel — there are so many question marks about how it's going to feel and the impact it's going to have on the industry. It's a critical year to have an in-person festival to get back on track and to kick-start the year in independent film."
Unlike previous years, competition titles will premiere theatrically in Park City then arrive online for virtual ticket holders a few days later (though some, including the refugee drama Drift, will not screen online at all). Hence, questions remain as to whether the kind of in-real-life "Sundance bounce" that resulted in eight-figure bidding wars for titles such as Hamlet 2, 2016's The Birth of a Nation, and Manchester by the Sea will continue apace or if film distributors will choose to do business virtually and forego sending executives in person, thereby draining Sundance of some of its magic. "The whole purpose of a festival is to screen films in person and to have conversations about it, whether that's around a water cooler or on a Park City shuttle bus," says one high-ranking agent from the indie-film team of one of Hollywood's big three agencies. "That's what movies are supposed to be about, and we lost some of that when Sundance went virtual."
Undiminished by the festival's online-only editions, however, is Sundance's renown as a forum for nonfiction film — what one veteran sales agent calls "arguably the most important documentary marketplace in the world." Exhibit A: In 2021, Ahmir "Questlove" Thompson's directorial debut, Summer of Soul, claimed Sundance's Documentary Grand Jury Prize then was acquired in a joint deal by Searchlight and Hulu for more than $12 million; it went on to win the Best Documentary Oscar last year. Likewise, Navalny, a "documentary thriller" about the Russian opposition leader, premiered at the festival in 2022 and is considered a likely Academy Award nominee.
Before Vinay Singh became chief executive of Archer Gray (the media-production company behind the Academy Award–nominated drama Can You Ever Forgive Me? and 2015 Sundance entry Diary of a Teenage Girl), he traveled frequently to Sundance as an independent producer and executive for Cinetic Media. Singh recalls the festival as a "serendipity engine" for the open exchange of ideas, discovery of new talent, and unexpected movie experiences. Heading to the festival this year with the U.S. Dramatic Competition entry and buzzy sales title The Persian Version, he harbors earnest hope that Sundance will return to its roots as a place of indie wonderment. "On a macro level, I actually don't know what to expect," Singh says. "Sundance had become very predictable. The marketplace of the festival had become the main feature of it. Everybody came chasing what would be the next Palm Springs deal, the next CODA deal. But the pandemic broke that a bit. It allowed Sundance to reconsider what it is. There's a lot of magic that unfolds in unpredictable ways at the festival. That's what I hope we're getting back to."