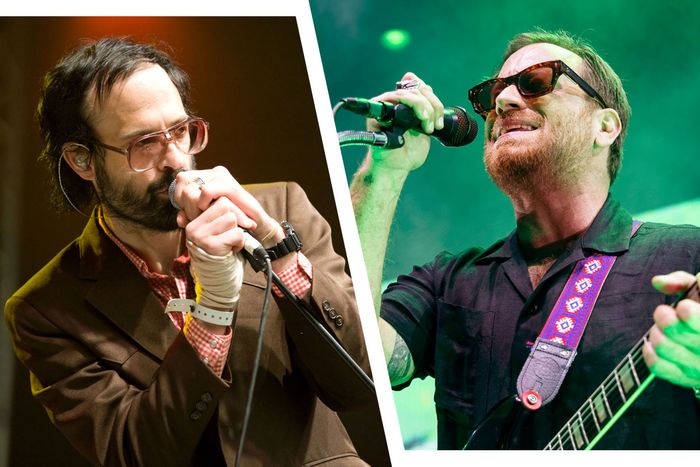 (From left): David Berman and the Arcs' Dan Auerbach.
Photo-Illustration: Vulture. Photos: Getty Images
No one was more excited to hear "Only One for Me" than David Berman. After all, the swaying, melancholic ballad by rock-and-soul supergroup the Arcs was born from his old writing collaborations with the band's founder, Dan Auerbach, who still remembers Berman's enthusiasm for the song early on. "He was just really intrigued with what we were doing," Auerbach says. "He was genuinely excited when I would take lyrics from him and work them into songs."
Years later, though, it remained in the vault. It's not unusual for artists to pause their work, but "Only One for Me" had faced an unusual trajectory. Richard Swift, another Arcs member, died of hepatitis in July 2018, and Auerbach and the rest of the band — then working on their sophomore album — couldn't bring themselves to revisit "Only One for Me" or any of the other songs they had been recording together. At the same time, Berman, having grown frustrated waiting for the material he and Auerbach worked on to be released, cut his own jaunty country version of "Only One for Me" for his album Purple Mountains. Tragically, a month later, Berman died too.
Now, more than a decade after their first collaborations, the original version Berman and Auerbach dreamed up is finally seeing the light of day on the Arcs' long-awaited sophomore project, Electrophonic Chronic, a collection of unreleased tracks largely recorded with Swift before his death. Even in a full album assembled in tribute, "Only One for Me" carries some of its heaviest history — and it has taken on layers of new meaning. "It's crazy what a couple years can do to a song," says Auerbach.
The song's roots are in 2012, when Berman first met Auerbach — then best known as half of the Black Keys. Living in Nashville, Berman, the acclaimed songwriter behind indie-rock stalwarts Silver Jews, was used to being approached for songwriting opportunities, but he was also used to turning them down, feeling like his dark, literary style didn't match the city's. In Auerbach, though, he found a similarly active creative mind — someone who would call him in the middle of the night to talk through ideas. But Berman still had his hang-ups about how his writing would fit with a more mainstream collaborator. So he asked Gate Pratt, one of his friends and writing partners since college, for help. "He said, 'Gate, you're good, because your songs are like a house,'" Pratt remembers. "'The walls are solid, and the roof doesn't leak.'" The comparison was apt: Pratt had become an architect after school.
That July, Auerbach emailed Berman a possible song title, "Maybe I'm the Only One for Me," along with a synopsis: "Song could be about severe self doubt, isolation, paranoia, loneliness, etc. All the good stuff!" Past their music, Auerbach and Berman bonded while talking about heavy emotional topics. To Berman, that went hand in hand with being Jewish. "We talked about intergenerational trauma and sadness and the Holocaust. We talked about heavy things all the time and talked about how sad music makes us feel good and the connection between all of that stuff," Auerbach says. "I think of a song like 'Maybe I'm The Only One For Me' — it feels spiritual to me in a way."
Berman sent Auerbach's notes and some initial ideas about the song's structure to Pratt, and a week later, Pratt had written four separate versions of the lyrics. (A couplet from one: "All those other happy shiny phonies / Riding high up on that crystal pony.") The final take in particular appealed to Berman, and he began to go back and forth with Pratt, trading dozens of potential stanzas. This sort of trial-and-error writing was their usual process, Pratt says. He and Berman wrote a handful of songs for Auerbach, but Pratt recognized that "Maybe I'm the Only One for Me" was special. "That song is, in particular, very succinct and pithy in its ability to describe a big picture in a few words, which isn't a small feat," he says. "Not every song comes out like that."
At the same time, the Arcs' Leon Michels, best known for his project El Michels Affair and his work with Sharon Jones & the Dap-Kings, was collaborating with Auerbach on a poignant, soulful instrumental. (Swift had played drums on the track.) They originally offered the track to Leo "Bud" Welch, the gospel blues artist, who turned it down because he wouldn't sing in the "white man's key" of C. Later, Auerbach took it to Berman, who would often suggest songs from his lyrics book when he heard new Arcs' music. Although Berman didn't write the lyrics specifically for the instrumental, he brought up the pairing when he heard the track. "It fell right into place," Auerbach says. "We were trying to make something sounding classic, and he tried to write something that was classic, and they worked together so well."
The Arcs toured through 2016, with "Only One for Me" on the set list among other unreleased songs. Afterward, the members turned their focus back to their solo work. They continued working on songs together when they had the time ("That's what happens when you play with five studio junkies in the same band together," says Michels) but couldn't align to focus on an album. As time went on, Auerbach, Michels, and the rest of the band had been losing touch with Swift, and in June 2018, he entered hospice care. He died the next month at age 41 — a death his family attributed to his lifelong alcoholism.
By then, Berman had returned to "Only One for Me" with new intentions. Auerbach remembers Berman had been "pissed off" that the band didn't release more music together and figures he wanted to salvage some of the songs he really cared about.
Back when they were originally working on the lyrics, Pratt noticed Berman pulled in two directions. In one email, Berman sent Pratt something close to the Arcs version. Then he had several alternate lines like "afraid of the hurtin' / afraid of the burden / afraid of just living, knowing nothing for certain." Pratt replied, "I see a lot of cool and interesting ideas lurking below. I get where you want to go. Save this [as] a version and re-write the new different, darker, more despondent version."
It took him years, but Berman did exactly that. The Purple Mountains take, titled "Maybe I'm the Only One for Me," landed somewhere more pessimistic with new lines like "I always had a hunch / I would crumble in the crunch" and "If no one's fond of fuckin' me / Maybe no one's fuckin' fond of me." Once Berman recorded his version, the lyrics carried new weight — he had separated from his wife (Cassie) and, by some accounts, was celibate. "I don't have any desire to be in a relationship with anyone else, and I do feel like I'm on the other side of my career of being a Lothario," he told Exclaim! after being asked how personal the song was.
When Auerbach heard the new take, he wasn't surprised. "He was constantly tinkering with songs like they were hot rods or something," he says. "They're all parked in his books that are stacked up in his bedroom, and he would obsessively go through them and constantly change them." They emailed about the new version of the song but wouldn't talk again.
After Berman's suicide, some listeners began to hear signs of his lifetime struggle with depression and addiction in Purple Mountains' lyrics. But Berman had been discussing songs like "Darkness and Cold" and "She's Making Friends, I'm Turning Stranger" with Pratt years before Purple Mountains — dispelling, to him, that the album was a "suicide note." Never mind that he doesn't hear as much sadness in "Maybe I'm the Only One for Me." "That song was intended to be hopeful and upbeat and optimistic — like a recognition that you could be happy alone," he says. "Him putting that song at the end of the album was intentional and, I think, meant to signal, 'I'm okay with all this.'"
By summer 2021, in a fit of pandemic boredom, Auerbach opened the Dropbox of the Arcs' old songs. Finally, hearing old music he'd worked on with Swift didn't feel mournful. "I was just like, God, this shit is so fucking fun to listen to," he says. He began sending songs to Michels, and soon, they were sorting through a few dozen tracks in various states of finish. Electrophonic Chronic, the new Arcs album, generally features the tracks that were the most finished along with one new song, "Heaven Is a Place," written in tribute to Swift.
Closing an album of songs that, whether directly or not, honor their late collaborator, the Arcs' "Only One for Me" carries a sense of resolution. The couplet "No one's gonna make me feel much better / And stay with me through all the stormy weather" may have been written about a romantic relationship, but in the context of the new album, it sounds like Auerbach is singing about Swift. Like a relationship, a band can be temporary.
Now, with no plans to tour Electrophonic Chronic or record new music, that's how Auerbach and Michels see the Arcs. The level of talent they were able to bring together still feels improbable — from their old bandmate, Swift, to their former co-writer, Berman. "It was almost like this insane manic creative energy that was unsustainable," Michels says. "That's why we recorded so much music. We were trying to basically capture this feeling that can't sustain itself."