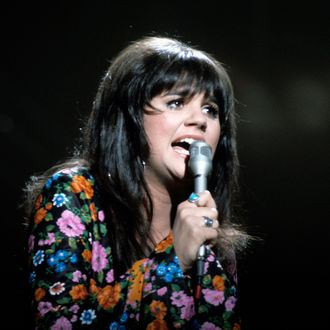 Linda Ronstadt's "Running Up That Hill."
Photo: ABC Photo Archives via Getty Images
Even through heaving sobs, uncontrollable shaking, and a deep Nick Offerman–induced depression, The Last of Us viewers managed to tell Alexa to play "Long Long Time," by Linda Ronstadt. Since being featured in the January 29 episode of HBO's The Last of Us, titled "Long Long Time" after the track, the 1970 hit experienced an increase in streams by a matter of 4,900 percent between the hours of 11 p.m. and midnight ET, according to Spotify. The sorrowful love song prominently soundtracked the show's "departure episode," which chronicled the relationship throughout the fungal apocalypse between Frank, played by HBO darling Murray Bartlett, and Bill, played by Nick Offerman. And you didn't need to play the game to know this wasn't so much a Janelle Monáe "Dance Apocalyptic" situation as a "Cry Apocalyptic" one.
Craig Mazin, The Last of Us's showrunner, was looking for a song that could get across "a long-term ache — the sadness of somebody saying, 'I wish, but oh, well, I shall be forever alone,'" he told Vulture. "Man, I just couldn't find the perfect song." But luckily, the gays pulled through. "I texted my friend Seth Rudetsky, who hosts the Broadway channel on SiriusXM radio," Mazin explained. "He has an encyclopedic knowledge of music. I said, 'Here are all the things I'm looking for. Do you know a song that would fit the bill?' Within 30 seconds, he texted back with '"Long Long Time," Linda Ronstadt.' I played it and was like, That's the song."
"It was important for me to show that the romance, however long it lasted, it didn't last," Mazin told IndieWire. "And then it's arguing. And then it's bargaining. And then it's realizing what the other person does for you. And then it's fear, and pulling these characters through the stages of life as I've been experiencing them and I've seen my wife's parents' experience and other friends' experience. The whole idea was to hit the highlights of moments in your life where love means something different. In the end, Neil [Druckmann, creative director of the original game] said something really smart: 'Even if a character doesn't make it in our show, in this case, these guys had a happier ending than they did in the game.'" Then why are we still crying, Craig?