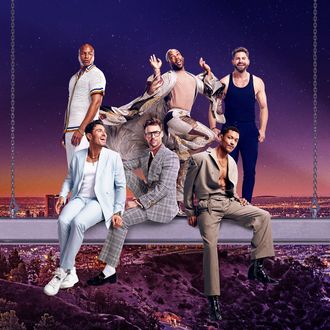 The Real Friends of WeHo has turned out to be a real bomb. This week's Nielsen report shows that, despite MTV's best efforts to make Real Friends a "destination night" for gay viewers by sandwiching it in between two shows with a loyal fanbase, gay viewers tuning in to watch Drag Race and the Drag Race aftershow Untucked mostly just want to watch … Drag Race and Untucked. After record-high ratings for its 15th-season premiere two weeks ago, Drag Race continued its streak of success this week, accumulating 578,000 viewers, making it the sixth most popular show on cable for the night and giving it a 0.14 share of the night. The Real Friends premiere, meanwhile managed to hold onto just 29 percent of Drag Race's viewership with 186,000 viewers and a 0.03 share of the night.
Perhaps most damning of all, however, is that more viewers opted to tune back into Untucked than still through the premiere of Real Friends. While MTV was the number one entertainment cable network in prime this Friday among young adults, Real Friends was the least successful participant in the two-hour block of gay. Untucked managed to accrue 214,000 viewers and a 0.04 share of the night, making it the 60th most-watched cable show of the night, in comparison to Real Friends's appropriate 69th.
Real Friends' failure to hold onto viewers presumably primed to watch, and possibly even enjoy, the show disproves the old Hollywood saying, "All press is good press." Not true, it turns out! The show has been, at the very least, loudly controversial among the audience it is intended to reach. In an act of support for Real Friends, MTV made the choice to cut Drag Race down from a 90-minute episode each week (which the show had aired since season ten) to 60 minutes. That has meant seeing less of Ru's interactions with the queens, a shortened runway, and seeing no judges' deliberations for the first time in the show's history — including when the episodes were only 60 minutes for seasons one through nine. In the lead up to Real Friends' release, disgruntled Drag Race fans who were unhappy with Drag Race's shortened runtime affecting the pace of the show, bombarded the official Twitter account with since-deleted scat-play videos to show their discontent.
There was also the issue of the Real Friends' cast, which included Todrick Hall, a content creator and Drag Race judging vet who has been controversial for reportedly not paying workers including dancers and Drag Race legend Manila Luzon.
The night of the premiere, fans were thoroughly united against the show. Across social media, multiple videos of Drag Race viewing-party participants circulated showing hordes of Drag Race fans cheering for the TV to be turned off when Real Friends came on. In response, Hall put out a social-media screed. "Fun Fact: The average annual earning for gay men in the U.S. is $59,618 compared to $57,032 for straight men," Hall argued. "We are successful, we work hard, and we deserve to see ourselves thriving on TV." The other gays of Real Friends have yet to publicly respond.
To some, Hall's scolding recalled the press tour associated with the first studio gay rom-com Bros from earlier in the year, which included writer/star Billy Eichner saying at the MTV VMAs, "I need you all there in theaters on September 30, 'cause we need to show all the homophobes like Clarence Thomas and all the homophobes on the Supreme Court that we want gay love stories and we support LGBTQ people and we are not letting them drag us back into the last century because they are past, and Bros is the future." When Bros went on to be a box-office bomb, the response was summed up by one Los Angeles Times headline: "The real lesson of Bros: It's OK to let gay art bomb." In a market with growing amounts of gay content, the repeated strategy of arguing that watching gay programming is an act of resistance or work toward social justice doesn't seem to be working. Oh at all.
This post has been updated.