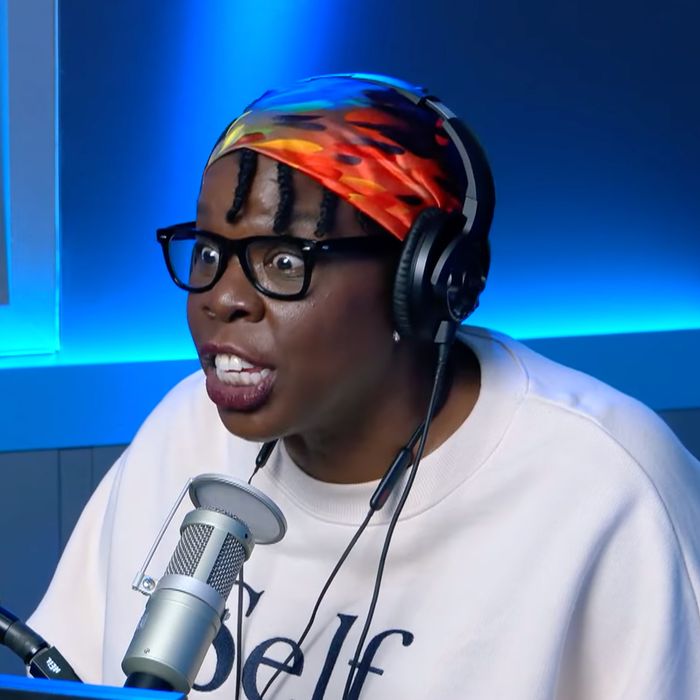 The comedy-podcast universe is ever expanding, not unlike the universe universe. We're here to make it a bit smaller, a bit more manageable. There are a lot of great shows, and each one has a lot of great episodes, so we want to highlight the exceptional and the noteworthy. Each month, our crack team of podcast enthusiasts and specialists and especially enthusiastic people will pick its favorites. We hope to have your ears permanently plugged with the best in aural comedy. You can also keep up with all our comedy-podcast recommendations in Vulture's newsletter 1.5x Speed, and be sure to check out Vulture's new podcast Into It, hosted by Sam Sanders.
The Fckry, "He's a Fck'n Idiot w/ Neil Potter and Bethel Caram"
Comedians Leslie Jones and Lenny Marcus, formidable forces in their own right, have combined powers to bring us The Fckry, a podcast replete with observational humor and musings on all manner of "fuckery" they've encountered in their illustrious comedy careers and beyond. In this week's episode, the hosts bring in friends and sketch-comedy power couple Neil Potter and Bethel Caram to play a "newlywed game." Throughout the episode, Jones and Marcus playfully challenge Potter and Caram's 25-year relationship with a rapid-fire series of petty questions ranging from TikTok habits to beverage preferences (Neil likes beer) to asking each partner who the "catch" is (it's Bethel). Jones expresses her affection for Potter, a "fucking idiot" with a "dumb smile," between gasps of raucous laughter, while Marcus and Caram complement her observations by defending Neil as a "guys' guy." Saving the best for last, they wrap up the episode by discussing the "fckry" of the week: leaving the past in the past and letting sleeping dogs lie. Jones speaks from personal experience, and Marcus agrees with her concise and unproblematic take. The pair is honest and unfiltered, and they have undeniable chemistry as co-hosts and writing partners — in Jones's own words to Variety, The Fckry is a chance to get " the uncut, 100% pure Leslie Jones. If you've ever wanted to hang with me and talk, here's your chance." — Akanksha Aurora 
Listen: Spotify | Apple | Website
The Sarah Silverman Podcast, "Talking Iran With Ana Lily Amirpour"
Even in the ultraexclusive class of famous comedians who give a modicum of a shit about the world, Sarah Silverman continues to stand taller than most. At her Moontower Just for Laughs headliner show in Austin last April, Silverman subjected herself to persistent heckling with a beefy chunk about abortion access in the state. This month, she again challenged fans of her more scatological material to laugh at a seemingly unfunny subject: the anti-government protests roiling Iran. Instead of taking listener calls or jumping between topical riffs as usual, Silverman devotes an entire episode of her podcast to a heartfelt conversation with acclaimed filmmaker Ana Lily Amirpour. Amirpour, whose A Girl Walks Home Alone at Night is sometimes called the first Iranian vampire western, here spins yet another remarkable story of deadly circumstances through images Vulture readers can appreciate with Iranian society explained via Lord of the Rings and Andor memes (civilians: "men of Gondor"; dictators: "orcs"). That their 50-minute dialogue, both terrifying and hilarious in equal measure, exists at all in a comedy podcast so known for its raunch quotient is a miracle. But Silverman proves that having a global platform doesn't have to come at the cost of your humanity. "We don't say pussy much," she says, "but I think this is important." — Sean Malin
Listen: Spotify | Apple | YouTube
Raised by Ricki, "U Got It Bad…for The Ricki Lake Show's Musical Guests"
Ricki Lake's comic dexterity has forever been underestimated — after all, she started her career working with John Waters and had to keep pace with Kevin James on The King of Queens. But on Raised by Ricki, the unusually self-aware and occasionally profound recap podcast of her long-running talk show from Lemonada Media, Lake's been on an undeniable roll. This giggly episode from January 5 found her and The Ellen DeGeneres Show's Kalen Allen in particularly fine co-host form reminiscing about the many iconic pop stars (Usher "as a baby," Salt-N-Pepa) who appeared on daytime TV with Lake. Their 49-minute conversation gets a jolt of warm wit from former MTV VJ Dave Holmes, whose anecdotes from the era are so well honed that they double as tacit reminders to check out his own stellar '90s music podcast, Waiting for Impact. But it's Allen, having come of age as an influencer and pop-culture figure in the same period as Britney Spears's residency in Las Vegas, that earns the biggest laughs. His and Lake's mid-episode interrogation into what it means to give oneself to the adoring public turns the episode into a refreshingly personal little bonbon. — Sean Malin
Listen: Spotify | Apple | Website
Bible Brothers, "Judges 7 — Gideon & God: Two Wild & Crazy Guys"
In Bible Brothers, Dan Klein and Robert Padnick, two unreligious comedy writers, read the Bible for the first time and punch it up with narrative structure and contemporary references. After slouching to the end of the Book of Joshua in the fall, deterred by its senseless text and the combined present-day stresses of new fatherhood and the final push in the writers' room of HBO's Miracle Workers, the co-hosts put down their Bibles for a few months to recharge despite the promise showing through the early Book of Judges. The wait has been worth it, and the new characters feel like a cosmic reward for sticking it out: Gideon the God Killer, a lunatic who overcomes a warring tribe by clanging things together in the dark; Samson, a Johnny Bravo–style kinky meathead who can tear lions in half with his bare hands; and callbacks to classic mysteries, including a certain man who has been tarrying through various troubles since the Book of Genesis. It's the first time the Bible has been this good for this long in centuries, canonically, and it's an excellent time to jump in. — Noah Jacobs
Listen: Spotify | Apple | Website
The Brilliant Idiots, "Clowns Did!!! (Ft. Humble the Poet)"
The hosts of The Brilliant Idiots are a dynamic duo: Andrew Schulz provides a more analytical and nuanced perspective, while Charlamagne Tha God brings his brash and unapologetic style to the mic. In an episode that dropped this month titled "Clowns Did!!!," Schulz shares his personal fear of the movie It and draws parallels to broader societal issues about clowns, while Charlamagne expresses his desire to be Morris Chestnut's twin and the impact representation can have on one's self-esteem. Guest Humble the Poet rips into the conversation like he's a regular on the show and, at one point, takes the flow into the deep end of the pool. The trio gets into a discussion about how "self-love" manifests itself and how it is ultimately the most enduring form of love. Rising to a challenge from Charlamagne, Humble showcases his unknown-to-the-hosts talent by showing off his free-styling and rapping chops toward the end of the session, and the musical element is the perfect bow on this surprise gift of a guest. — Marc Hershon
Listen: Spotify | Apple | Website
Got a comedy podcast recommendation? Drop us a line at comedypodcasts@vulture.com.