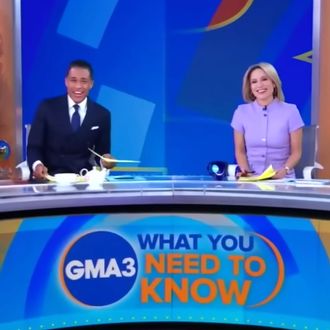 Co-anchors to couple.
Photo: ABC
T.J. Holmes and Amy Robach's workplace fling has ended yet another relationship. This time, it's the GMA3 anchors' own with ABC News. "After several productive conversations with Amy Robach and T.J. Holmes about different options, we all agreed it's best for everyone that they move on from ABC News," a network spokesperson confirmed in a statement to Vulture. "We recognize their talent and commitment over the years and are thankful for their contributions." TMZ and "Page Six" both reported earlier today that the network was finishing mediation for their exit. A source told TMZ that a January 26 meeting was "extremely contentious" — with ABC claiming that Holmes and Robach did not disclose their relationship early enough and that it made staff "uncomfortable." Sources told TMZ that Robach kept alcohol in her dressing room and had shown up to work drunk. Another source said alcohol was often sent as a gift and Robach had merely been tired after the College Football National Championship, not drunk. "Page Six" confirmed reports that Holmes and Robach were eyeing lawsuits "unless ABC reaches a satisfactory departure agreement with both Amy and T.J.," per a source.
The exit follows a monthslong saga that kicked off with a massive Daily Mail photo dump of Holmes and Robach's relationship, which reportedly started as an affair while the co-anchors were both still married to other people. After a few awkward hosting stints, ABC pulled them off the air — originally claiming they hadn't broken rules and were just "an external distraction" but later changing course and investigating the relationship.
Since the Mail report, more of Holmes's alleged workplace romances came to light — including, most recently, with a 24-year-old script supervisor when he was 37. A source later told the U.S. Sun that Robach "had no idea the scope of T.J.'s alleged past office romances" and feels like "collateral damage" amid the controversy. This might not be the last breakup in the saga. Stay tuned!
This is a developing story.