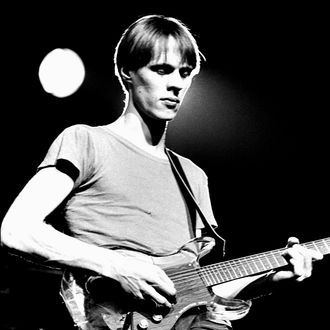 Photo: Gus Stewart/Redferns
Tom Verlaine, an iconic punk guitarist known as the front man for the band Television, has died at the age of 73, according to Patti Smith's daughter, Jesse Paris Smith. She later confirmed in a press release that Verlaine died peacefully "after a brief illness" while surrounded by close friends in New York City. Born Thomas Miller, he created the stage name Tom Verlaine when he moved to New York, inspired by French symbolist poet Paul Verlaine. Joined by Richard Hell, they first formed the group the Neon Boys before later transforming into Television. Billy Ficca and Richard Lloyd eventually joined the group; however, Hell would leave before the release of their first album, Marquee Moon. After two studio albums, the group disbanded, leaving Verlaine to begin a successful solo career.
He released ten studio albums with his latest one Around released in 2006. Verlaine collaborated with many artists like Patti Smith, Smashing Pumpkins's Tony Garnier, and Sonic Youth's Lee Ranaldo and Steve Shelley. He frequently worked closely with Smith, including on her Grammy-nominated single "Glitter in Their Eyes" and "Fireflies." Verlaine, alongside Sonic Youth's Ranaldo and Shelley, Wilco's Nels Cline, Garnier, Smokey Hormel, and John Medeski, made up the super-group Million Dollar Basher, creating music that appeared in Dylan's biographical film, I'm Not There.
This post has been updated throughout.