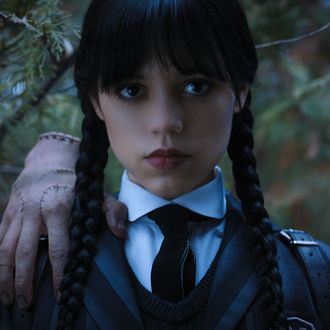 Thing (left) and Wednesday.
Photo: Netflix
Get ready to dance, dance, dance with your hands above your head, Wednesday fans. The Jenna Ortega–led show has officially escaped Netflix's one-and-done cancellation curse and been renewed for a second season. "It's been incredible to create a show that has connected with people across the world. Thrilled to continue Wednesday's tortuous journey into season two," showrunners and executive producers Alfred Gough and Miles Millar confirmed to Tudum.com. "We can't wait to dive head first into another season and explore the kooky spooky world of Nevermore. Just need to make sure Wednesday hasn't emptied the pool first." Below, what we know about the goth girl's next semester at Nevermore Academy, straight from Enid's gossip blog.
Who's in the cast?
Good question. It seems almost certain that Jenna Ortega will return, given that she played the titular Addams Family character in season one. Technically, though, Netflix hasn't shared any information on which actors are returning. The first season starred Catherine Zeta-Jones and Luis Guzmán as Morticia and Gomez Addams, respectively. Other cast members included Emma Myers, Percy Hynes White, Hunter Doohan, Isaac Ordonez, Gwendoline Christie, Riki Lindhome, Jamie McShane, Fred Armisen, and, of course, Christina Ricci (the Wednesday from the '90s movies).
Is the show leaving Netflix?
In early January, fans began to speculate that the show could relaunch on Prime Video or MGM's streaming platform Epix (which will soon be reborn as MGM+), due to Amazon's acquisition of MGM. But this isn't the case: A press release has confirmed the show's second season will air on Netflix because, as an industry insider previously told Vulture, Netflix and MGM signed their Wednesday deal well before Amazon's purchase.
When will Wednesday season two drop?
No release date has been announced so far. But we're betting that, like the first season, it'll be on a Wednesday.