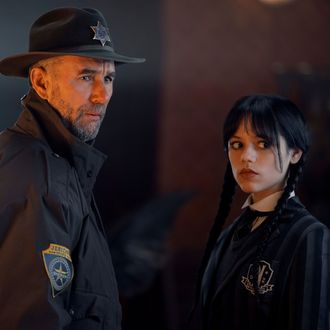 Photo: Vlad Cioplea/Netflix
Update Friday, January 6: Looks like the internet's screams and cries confusion was heard loud and clear by Netflix, as a season-two renewal of Wednesday was officially announced today. "It's been incredible to create a show that has connected with people across the world. Thrilled to continue Wednesday's tortuous journey into season two," showrunners Alfred Gough and Miles Millar told Tudum.com. But the pair aren't the only ones thrilled to continue Wednesday's season-two journey: Netflix made sure to bold "only on Netflix" in the press release, so we all get the point. Case closed.
Original story published January 3 follows.
Here's the thing — Wednesday season two will almost certainly happen. The Jenna Ortega–led series is, per Netflix's numbers and all the TikToks you couldn't escape last month, one of the streamer's biggest shows of all time alongside recent releases like Dahmer and Stranger Things 4. However, it has yet to get an official renewal announcement, leading to all sorts of speculation from different corners. And although the rumors swirling around Wednesday's second season — that it might leave Netflix and go to an Amazon-owned streaming platform — may not quite be true, the situation is a bit complicated.
While The Addams Family was already a well-known brand, it's fair to say that the meteoric rise of Alfred Gough and Miles Millar's Wednesday was a surprise to many — possibly even to Netflix, which distributed the series, and to MGM, the show's production owner. The fact that Netflix carries the show but didn't create it is where problems might lie. There's a chance both parties are revisiting the initial deal. If those conversations are happening, we're guessing it's probably nominal behind-the-scenes talk like the studios reconfiguring cast deals for bigger paydays or any number of other details.
As we wait for that official announcement, let's run through everything we know so far.
Has There Been a Season-Two Renewal?
Oh, my little vipers, there has not been an official announcement — though to be fair, it's not unusual for Netflix to take its time to green-light a new season. Shows like The Sandman, Bridgerton, and even Dahmer had at least a month's wait before the streamer announced their second seasons. The good news for fans is that it would be outrageous for Netflix to not renew Wednesday given how much it has touted the show as one of the most successful in its history.
Still, in an interview with Buffering last month, Netflix's head of U.S.-based scripted series, Peter Friedlander, could not answer whether season two was happening, but he did say he was "optimistic." It would be quite a heel turn to not renew.
Why the Delay on Renewing the Show?
One possibility for the lag is that Netflix, MGM, and the producers are revisiting elements of the existing deal's framework to figure out new compensation levels, how many seasons the show might run, and whether spinoffs could be created for Netflix. Or it could be far more mundane: It could just be Netflix taking its time and wanting to run all the numbers and that sometimes, even with successful shows, the company takes a beat to renew.
Could Season Two End Up on Prime Video or MGM+?
Much of the hoopla on the matter has come from speculation in a report stating that, since Wednesday is an MGM Television production and MGM is now owned by Amazon, Jeff Bezos's company would want to modify its deal to lure Wednesday over to its soon-to-launch MGM+ (currently known as Epix) or even Prime Video. But that won't happen. An industry insider familiar with the situation tells us that the deal between Netflix and MGM over Wednesday was finalized long before Amazon bought the studio. As Deadline reported in mid-December, "Even though MGM has been restructured into Amazon Studios, under Jen Salke, no one expects that to derail future seasons" of Wednesday, meaning that Gough and Millar's series remains in Netflix's court.
But Season One Won't Leave Netflix, Right?
We'd have to say no way, mis tormentas. Sure, it's not entirely impossible. We recently saw Marvel Studios take back custody of its Netflix Marvel shows (like Daredevil and Jessica Jones) to put them on Disney's streaming service. As with every deal, though, there was a specific clause that included a licensing deadline of a set amount of time — usually five to ten years after a show debuts — before Disney had the right to pay a lot of money to take back the shows. We don't know the details of MGM and Netflix's current deal for Wednesday, but even if the two parties did include such a clause, our bet is that season one will remain on Netflix and that's where you'll be watching the show's second season.
Additional reporting by Josef Adalian.