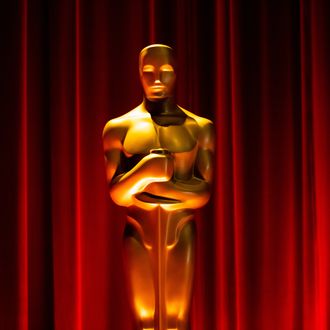 Photo: Jay L. Clendenin / Los Angeles Times via Getty Images
The Academy is not having it. After Will Smith infamously slapped Chris Rock on live television last year, there will be no surprises at the 2023 Oscars — or that's what Academy of Motion Picture Arts and Sciences CEO Bill Kramer is hoping, anyway. "[We] have a whole crisis team, something we've never had before, and many plans in place," Kramer revealed in a recent interview with Time. "We've run many scenarios. So it is our hope that we will be prepared for anything that we may not anticipate right now but that we're planning for just in case it does happen." That doesn't paint a very specific image of how live mishaps will be handled … but to be fair, if people will be waiting in the wings to tackle you if you so much as raise a palm, it's not like the Academy would want you to expect that.
In light of last year's ceremony, Kramer said crisis plans now involve communication teams and structures that will allow statements to be made quickly. According to Kramer, these new frameworks are why we were able to get a formal response about campaign regulations six days after Andrea Riseborough's nomination controversy. But that doesn't mean it's time for the Academy to get complacent. In fact, before Jimmy Kimmel hosts the 95th annual Academy Awards out of the Dolby Theatre on March 12, we have some homework to assign. Below, here are just a few mishaps that the new Oscars crisis team should be prepared to handle:
1. Michelle Yeoh actually follows through on her Golden Globes joke about beating someone up if they try to cut her acceptance speech short.
2. Ariana DeBose gives us part two of her BAFTAs rap (although this could also be the opposite of a crisis, depending on whom you ask).
3. Cocaine Bear crashes the ceremony and gets the entire audience coked up.
4. The orchestra is horribly out of tune, causing the spirit of Lydia Tár to possess Cate Blanchett.
5. Principal Ava Coleman storms the stage and declares herself Best Principal.
6. Haunted by what he did at the Emmys, Jimmy Kimmel overcorrects and accidentally throws himself off the stage while trying to get out of a winner's way.
7. Everyone stops watching the ceremony because Rihanna drops her long-awaited album in the middle of the broadcast.
8. M3gan starts a fight in the Dolby Theatre aisles to find out which killer doll slays the most, literally.
9. Heartbreak stops feeling good in a place like this.