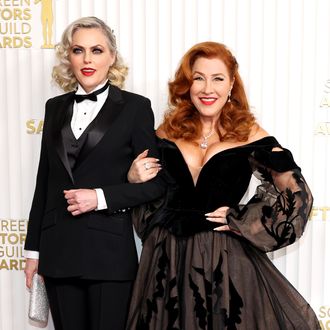 Photo: Amy Sussman/WireImage
Spotted: Jilted society-bride-to-be Meredith Blake has been stepping out with the help. Her former fiancé, Nick Parker, might have rekindled a relationship with the mother of his (secret twin) children, but Blake has moved on …to Chessy, the nanny? This is a twist on The Sound of Music that not even a Mother Superior could see coming.
Blake and Chessy (last name unknown) met in 1998, when Blake moved into Parker's estate — complete with well-appointed kitchen and live-in staff. It's so hard to find good help these days, and we're glad Blake has found a housekeeper who can also tend her garden. Love is love!
Okay, that's all fiction. But can you imagine? Former Parent Trap co-stars Lisa Ann Walter and Elaine Hendrix walked the 2023 SAG Awards red carpet, where Walter's Abbott Elementary was nominated for Best Ensemble in a Comedy Series. In the Nancy Meyers classic, Walter played housekeeper, nanny, confidante, and jean-shirt wearer Chessy, while Hendrix sizzled as gold-digging mean girl Meredith. But as millennials and zoomers age, many have come to respect Meredith for her goal-oriented lifestyle. She was the blueprint for the Real Housewives, and we all know it. Walter and Hendrix have remained friends since The Parent Trap wrapped with Walter even going so far as demanding a redemption arc for Meredith, should there ever be a sequel. Justice for Meredith.