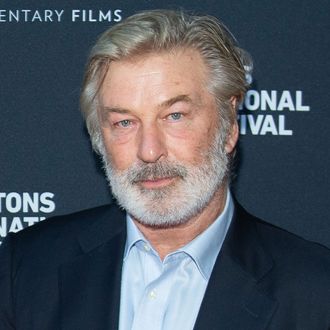 Alec Baldwin.
Photo: Mark Sagliocco/Getty Images for National Geographic
Three Rust crew members filed a lawsuit against Alec Baldwin and the film's producers on February 27, alleging negligence and intentional infliction of emotional distress after the fatal shooting of Halyna Hutchins. Ross Addiego, Doran Curtin, and Reese Price — the film's dolly operator, set costumer, and key grip, respectively — say they were in the church building at the Bonanza Creek Ranch in New Mexico when Baldwin's gun went off, killing cinematographer Hutchins and injuring director Joel Souza, according to court documents. The "deafening" sound from the live discharge inside the church caused them to suffer blast injuries, the plaintiffs say. They allege that defendants "offered no diagnostic services or any meaningful emotional or mental health services," forcing crew members to independently seek support to deal with insomnia, anxiety, depression, and symptoms of post-traumatic stress disorder.
The filing describes a "super unsafe" set prone to unscripted gun misfirings and cost cutting. Hannah Gutierrez Reed, the "inexperienced" on-set armorer, was contracted to keep costs low and do two jobs for the price of one (she also worked in the props department), the suit alleges. Meanwhile, they say the decision to hire the first assistant director, David Halls, is another example of cost cutting — he was subject to safety complaints on other sets. They maintain that defendants failed to hold daily safety meetings, during which firearm concerns could be resolved. Baldwin is specifically accused of negligence during gun training, failing to check the gun for live bullets and allowing it to fire.
The embattled actor is currently embroiled in a myriad of legal battles over the fatal shooting. Addiego, Curtin, and Price join several other crew members who filed suits after the incident. Hutchins's family sued Gutierrez Reed, Rust producers, and Baldwin over the cinematographers' death earlier this month, while both Baldwin and Gutierrez Reed face criminal charges that carry a maximum sentence of 18 months in prison. Rust will continue filming in Montana this spring.