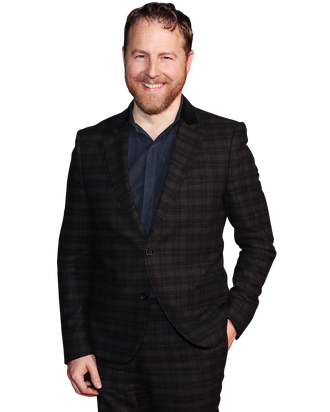 Photo: Mike Marsland/WireImage
Siegfried Farnon is a bundle of contradictions — unfailingly gentle and intuitive with animals and children, often snappish and short with adults, and every bit as impulsive as he loves to accuse his brother Tristan of being — and while that could play very broad, Samuel West's nuanced performance brings both gravitas and humor to the role. That precise balance was crucial in the recent third season of All Creatures Great and Small, which closes on a higher-stakes note than one might imagine for the most relentlessly charming and soothing show on TV: World War II no longer looms but is now well underway as the residents of Skeldale House welcome a young Jewish evacuee from Manchester, James Herriot may be called up for service, and Tristan finally wrests control of his future out of Siegfried's hands to join the Royal Army Veterinary Corps. Most significantly, Siegfried must acknowledge that being a well-intended control freak is not, in fact, a viable love language.
For West, this evolution for Siegfried is the culmination of not only the years spent playing the role but a lifetime of preparation leading up to it. "In my life, I've learned most from the mistakes that I've made," he says in a conversation with Vulture, noting that Siegfried denying his brother the freedom to make his own mistakes "isn't really fair." Like viewers, West will have to wait until next season to see how Siegfried's decision plays out — not to mention his potential future with housekeeper Mrs. Hall — but until then, he's grateful to have finally been able to uncover some of his character's unspoken history.
This interview has been edited and condensed.
Siegfried Farnon is a protective, grouchy, and hyper-responsible control freak, but none of that is static. How have your understanding and portrayal of Siegfried evolved over the last three seasons? 
I'm surprised by the depths that he's revealed, and I really shouldn't be, because early on, our lead writer, director, and producer sent me a two-page summation of Siegfried's character. It was quite detailed — it wasn't a Chekhov short story, but it wasn't far off. It had a lot of backstory, a lot of hinterland, and they justified why they wanted to play him as a widower. It has felt sometimes like uncovering tracing paper — the lines underneath get thicker as you remove layers of paper, then you think, Oh, yes, I always thought that was there. Over time, you realize that some of the things that you're basing your characterization on are things that you were given at the very beginning and, because of what has happened during the last three years, on things you've just thought of.
It's very much like life, you know, it's all middle! One of the nice things about the finale of season three is that it drew together a lot of things that we've been talking about for three years — like, exactly how old was Siegfried when Tristan was born? What was the history with his late wife, Evelyn? What was the history with their parents? We sort of worked out a story where it exists almost exactly as I imagined it had. These things had always been unspoken, then as I said the words, I realized that they were true.
Previous seasons have alluded to Siegfried's experiences in the First World War, but this season foregrounded the aftereffect in several episodes. 
Well, the First World War is absolutely in living memory for me, because my grandmother's brother Alec was killed at Ypres when she was 17, and she never got over it. He was 24 when he died. So it doesn't feel like the past for me to be playing somebody born in 1890. Siegfried went off to war, thinking he wanted to help animals, and came back rather preferring animals to people and thinking he wouldn't have children of his own after seeing such unimaginable horrors. So when you dig a bit deeper, you find that he's not alone. There's Mrs. Hall's history with her estranged son Edward and Siegfried's dear friend Maurice, who kills himself 21 years later as the Second World War is about to begin. It's good that All Creatures can treat it seriously, because war fucks you up. It's a little time bomb with Maurice, and it just sets Siegfried off.
All of that comes to a head in the season finale with Tristan confronting Siegfried and Siegfried finally relinquishing his well-intended but overprotective last attempt at keeping Tristan out of the war. 
Thinking in character as Siegfried, one of the things that I've got to realize about Tristan is that, in my life, I've learned most from the mistakes that I've made and that I'm denying my brother that freedom, which isn't really fair. He's got to be allowed to make his own mistakes, and as a result, I've got to let him go.
Siegfried is never short with animals, never holds them to his perfectionist standards for people. You work so much with one horse in particular this season, the beautiful and traumatized colt River — by the way, was it you galloping over the Dales in those scenes? 
No, that's my stuntman — actually, it's one of a set of twin stuntmen, Rob and James Pavey. He's absolutely terrific and has specialist skills like bareback galloping. He's the one doing all the falls.
Even aside from the galloping and falling, those scenes are long and fairly intense. How did you train for them?
One of the great joys of acting is that occasionally you get asked to do something that you can't quite do and they teach you to do it better so that it looks like you can. I can look competent on a horse, and they sent me for two or three extra lessons, but I loved them and ended up going seven or eight times instead. A key skill is having the confidence to be still around horses and wait for them to be still back, because a horse will respond to your mood. If you want to have a conversation with a horse, that stillness — being completely calm around them and happy and not thinking you're gonna get kicked or bitten — is crucial.
Your credits as a narrator of so many documentaries and audiobooks suggest that World War II is a significant interest for you. Where did that start? Is there a specific aspect that really drew you in?
About 25 years ago, I voiced over a documentary about the Oklahoma land runs for my late friend Jonathan Gili. And at the end of it, he said, "You're going to do a lot of these. Just trust me, you are." And I did nine for him. Then in the late '90s, Laurence Rees, the producer of The Nazis: A Warning From History, got in touch with me to ask if I could narrate that. It taught me that I have quite a serious voice. If I'm telling the story of the murder of 6 million people, I tend to believe that I should just inform viewers as quickly, accurately, and neutrally as possible, then shut up and let them watch or listen to what they were watching before I started talking. And when you're doing a series about the Nazis, it turns out that that approach fits, and people trusted it. It just seems to sort of slightly suit the past. But the Second World War thing, specifically as an actor? I don't know. It's weird. I mean, why you get typecast in a particular period is always a mystery to an actor, and by the time the actor has noticed it, it's already too late. I'm in Slow Horses at the moment, though, which isn't set in the 1930s. I get to say "fuck," and that doesn't happen in All Creatures.
Yeah, your performance as Peter Judd is deliciously nasty. That may be the closest I've seen you play something funny on purpose. 
Thank you. He's a delightful, delightful character and just not a nice man. They absolutely get the sort of dangerous, slightly funny, slightly ridiculous tone of the books to come across onscreen. I'm now completely down with the fact that I'm never going to play anybody of my own politics, and I'm just going to play this terrible Tory.
I did an advert in support of television-license fees for the BBC, which is quite funny — I think it might have helped me get the job of Siegfried, actually. I'm really not asked to do things that are supposed to get laughs very often. So when I got Slow Horses, I thought, Well, this is a nice progression. The size of this parodic character! He's based on Boris Johnson, and in the first season, I decided that we couldn't emphasize that, because Johnson was about to become prime minister. It was just too close. Now that Peter Judd is going back to the backbenches, perhaps I can have another go with his mixture of David Cameron and Nigel Farage — just being quietly and politely fascist.
Given that you have all of this expertise in World War II history, is that something that ACGAS showrunner Ben Vanstone is drawing on? 
Oh, no. Ben's attitude to the war is absolutely right — we should only sense it through the impact it has on Darrowby. We're not going to suddenly cut away to the War Office in London or Tristan or James at the front. I really don't know what happens in series four, but of course the war affects us, affects everything. Things that were difficult to get become impossible, and things that were easy to get become difficult. In some ways, that's a good thing — the straitened circumstances of the war will tighten the cables between us.
The only time I'm really useful with my knowledge of the era is I have quite a good anachronism detector for things like period-correct vocabulary and popular phrases. I think it's quite important to say, "They wouldn't have used that in 1938 Yorkshire unless Tristan got it from a B-movie western that he saw on Saturday morning." We try to get the Yorkshire dialect in as well. We don't always succeed, but I think if people who understand the dialect see us using it correctly, then they trust us and it becomes a delightful piece of seasoning.
I don't know how aware you are of fanfiction, but the leading ACGAS-ship, or relationship, is Siegfried and Mrs. Hall. How do you view that relationship and the fan response to it? 
I don't read fanfic and perhaps I should, although I would be wary of reading fanfiction about Mrs. Hall and Siegfried, only because it might give us ideas! It's a fascinating relationship based on a very strict and well-established principle, which is that I employ her. I call her Mrs. Hall and she calls me Mr. Farnon. At the same time, the real power in the house is Mrs. Hall, and I'm wise enough not to question that. It would be extremely unusual for them to have a relationship, but nothing is impossible. I am enormously grateful for her presence and, increasingly, for her wisdom, kindness, and attention. And that is likely to become more important, not less. They're two people with important histories of marriage, heartbreak, and their own problems with children — either having them or not having them. And one of the wonderful things about All Creatures Great and Small is that things never happen too slowly. More and more, we've rightly chosen to put off emotional payoffs. So I would say to people holding a candle for Siegfried and Mrs. Hall, "Never say never." I haven't seen the scripts for series four, so I don't know what happens, but professionally, I've never been happier than when working with Anna Madeley. I love her portrayal of Mrs. Hall, and Siegfried does too. Beyond that, who knows?
I would love to see it. 
They're sort of married already. You can tell a lot of story just by holding hands.
All Creatures Great and Small airs on Masterpiece on PBS, and is available to stream via PBS Passport and Amazon Prime.
In addition to narrating five documentary series about WWII, West has played King George VI in Hyde Park on Hudson and Sir Anthony Eden in Darkest Hour.