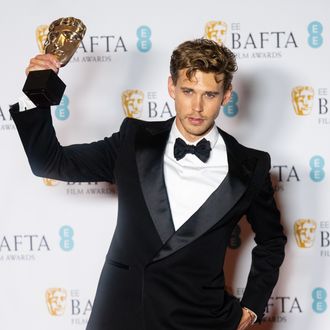 Photo: Samir Hussein/WireImage
Despite deliberate attempts by the BAFTA nominating body and ceremony production team, last night's BAFTA film awards were so, so white. Across categories, all 49 awards at the 2023 BAFTAs were given to white people, according to BBC News. Among some of the stars who came home empty-handed were two Everything Everywhere All At Once stars, despite seemingly sweeping every other award show. Ke Huy Quan, who lost to Irish actor Barry Keoghan in The Banshees of Inisherin, recently won 'Best Actor' for his work in EEAAO at the Golden Globes and the Critics Choice Awards. Meanwhile, Michelle Yeoh, who lost to Cate Blanchett's Tàr, has won 'Best Actress' at the National Board of Review and the Golden Globes. Blanchett also won against Viola Davis's performance in The Woman King and Danielle Deadwyler's performance in Till. The latter criticized her film's lack of nominations as "unabashed misogyny towards Black women" two weeks ago, and the BAFTAs winners list does not hurt her point.
Three years ago, the BAFTA's were overhauled after all 20 acting nominees were white. Marcus Ryder, director of consultancy at the Sir Lenny Henry Centre for Media Diversity, told the Beeb that the lack of results from these reforms was depressing. "Despite a massive overhaul," he said, "on which I and many other industry people were consulted and which resulted in 120 changes to the Bafta award processes, 1,000 new members from under-represented groups etc, the end result is there is no substantial change." The nominations for the 2023 BAFTA Film Awards were much more diverse than the winners' circle, with almost 40% of acting nominees being people of color. The overwhelming whiteness of the 2023 BAFTA's was illustrated in a photo of all the winners widely circulated on social media. In a sea of faces, the only person of color was presenter Alison Hammond.