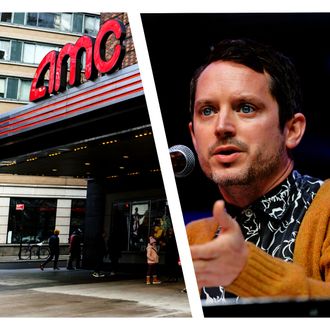 Photo-Illustration: Illustration: Vulture. Photos: Getty Images
Sometimes being reborn together won't be the most economical option. AMC Theatres announced it would be implementing a new pricing system for its movie tickets, affecting all domestic movie theaters by the end of the year. More desirable seats, like those in the middle of the auditorium, will now be rebranded as "Preferred Sightline" seating with a premium price. "Standard Sightline," for general seating, will be at the traditional theater pricing. "Value Sightline" (those in the front row and select ADA seats) will be the most affordable option and technically the most "exclusive" as it will be available only for AMC Stubs members. The updated pricing will not affect $5 Tuesdays or A-List members. Currently, this change will affect theaters in select AMC locations in New York, Chicago, and Kansas City starting Friday.
But movie fans and actors do not come to the theater for an economic hierarchy but for magic. Elijah Wood tweeted his disappointment in the upcoming changes: "The movie theater is and always has been a sacred democratic space for all and this new initiative by AMC Theatres would essentially penalize people for lower income and reward for higher income." If AMC Theatres can listen to the best parts of us and get to work on a Nicole Kidman sequel, it can find different ticketing options.