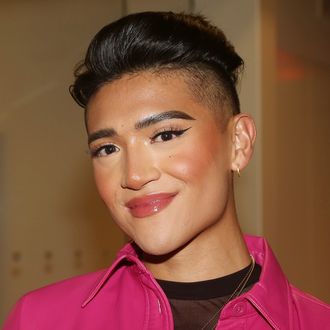 Justin David Sullivan.
Photo: Bruce Glikas/Getty Images
Consider the gauntlet thrown. Justin David Sullivan, a nonbinary actor currently starring in the jukebox musical & Juliet on Broadway, has opted out of eligibility for a Tony nomination. "As a non-binary performer playing a non-binary principal role on Broadway, I have been asked by many what I plan on doing about this year's award season nomination categories," Sullivan wrote on social media on February 2. "While I was thrilled to see that some are eliminating gender from their nomination categories, I was disheartened to learn that the Tony Awards are not planning on making this year's nomination categories more inclusive of gender expansive or trans non-binary performers like myself. Because I was told I had no other but to choose between one of the two gendered categories in which I would be eligible, I felt that I had no choice but to abstain from being considered for a nomination this season."
Despite being the biggest awards in the theater world, the Tonys have yet to develop a way to recognize performers outside of gendered categories like Best Actor or Actress in a Musical. In their post, Sullivan refers to other award shows that have non-gendered categories, including theater prizes such as the Drama League Awards, which have a Distinguished Performance category, and film honors such as the Independent Spirit Awards, which have switched to non-gendered performance categories. Other nonbinary actors on Broadway this season, notably J. Harrison Ghee of Some Like It Hot, have slotted themselves into gendered categories; Ghee will be competing with male performers. Seems like Broadway's view on gender isn't that broad just yet.