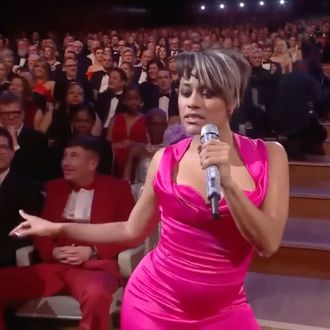 The thing in question.
Photo: BBC
We here at Vulture would like to take a moment to thank the theater kids of the world. For without their fearsome and dedicated earnestness, we, as a society, would be without so much beautiful content. Theater kids gave us the first season of Glee, they gave us an archetype to describe Anne Hathaway's vibe, and they gave us Jan's face crack after losing Madonna: The Unauthorized Rusical on Drag Race season 12. Most recently, Ariana DeBose, theater kid and Oscar winner, gave us her BAFTA opening number, and for this, we are grateful.
The 76th BAFTA awards were held on February 19 at the Royal Festival Hall in London. They were hosted by Richard E. Grant and Alison Hammond, but the opening number was performed by Ariana DeBose. DeBose's performance was a tribute to the nominated women and included covers of "Sisters Are Doin' It for Themselves" by Aretha Franklin and Eurythmics and "We Are Family" by Sister Sledge. In between songs, DeBose took the time to do a post-Hamilton rap homage to the nominated women of the night — "Angela Bassett did the thing / Viola Davis, my Woman King." It was special. It went viral almost immediately. Below, the BAFTAs opening performance, the response, and the response to the response.
Why did Ariana DeBose's BAFTA rap go dangerously viral?
Because in pure theater-kid fashion, she gave us something so earnest yet so wrong that it comes back around to being pure camp. In her essay "Notes on Camp," Susan Sontag writes that "Camp is art that proposes itself seriously, but cannot be taken altogether seriously because it is 'too much.'" What DeBose gives is certainly intended to be serious, yes, and it is certainly too much. Even her Broadway lung capacity is at its max the second the rap begins with "The category is: Outstanding Debut." The rap itself isn't exactly full of bars, with lines like "Jamie Lee, you are all of us!" which, though true, has nothing to do with her hot-dog-handed character in Everything Everywhere All at Once. Like the disastrous 1989 Oscar opening number or John Travolta saying "Adele Dazeem," the contrast between the self-seriousness of award shows and the unintentional floppery of one big swing is the type of unintentional camp that can legitimately be deemed "iconic."
Since the performance, a video of DeBose rehearsing and going over the rap's lyrics was posted by Broadway music director Benjamin Rauhala, and it compounds the comedy. There's something beautiful about learning that the line readings went as intended … just more out of breath. We cringe and we smile.
Yeah, we saw "Angela Bassett did the thing."
And so should the rest of humanity! For one, DeBose's performance is at its most confusing here, with her lack of breath leading to clipped syllables and an odd, almost melodic reading of the name "Angela Bassett." Her sharp dance moves, specifically the waving of the finger, are equally compelling, if not necessarily right for the song. (Who cares?) Known camp appreciator Ziwe reenacted them to a T on Instagram. Also, though, the idea of Bassett being notable for just doing the thing is compelling in its own right. "Unironically, 'Angela Bassett did the thing' is probably the best distillation of her awards narrative that exists," wrote one Twitterer.
It's the seriousness of a heartfelt tribute to the underappreciated women of film meeting a dedicated yet completely incorrect performance that makes this opening ever-more compelling to a Twitter audience that both lauds these queens and takes joy in unintended awkwardness. It's naïvely bad in a way awards shows rarely achieve. In other words, yes, memes abounded:
Did the BAFTAs or Ariana DeBose respond?
Both BAFTA and DeBose herself gave a version of a response. DeBose deleted her Twitter account after the performance went viral, though she later commented "Honestly I love this" on a meme carousel posted by Evan Ross Katz on Instagram. DeBose later went on the BBC Radio 2 show "The Zoe Ball Breakfast Show" and talked about the performance in a conversation that will air on February 27. The Daily Mail ran a preview February 23, in which DeBose says the goal was to celebrate women. "And we did that and it was fun, not going to lie. I had a blast. So awesome," she reflects positively. "Baz Luhrmann came and found me, and he was like, 'No, I think you're great, that was fun. I had fun,' and I was like, WERK. That's a win, you guys. And apparently gay Twitter seemed to like it. So that's good. I'll take it!" Most recently, on February 25, she posted a round-up of her favorite memes, including Lizzo and Adele shout-outs on Instagram. "The internet is wild y'all! Appreciate all the love," DeBose captioned.
BAFTA producer Nick Bullen called the "backlash" "incredibly unfair," in Variety. "I absolutely loved it," he said. "Everybody I've spoken to who was in the room absolutely loved it. She's a huge star, she was amazing. The songs she was singing are very familiar songs, the room was clapping, and people were sort of dancing to the music. That rap section in the middle, mentioning the women in the room, was because it's been a great year for women in film, and we wanted to celebrate that. And here is a woman of color who is at the absolute top of her game. And she's opening the BAFTAs with a song that said so much on so many levels." However, the awkwardness of the performance is actually more intense when looked at through the diversity filter — the show would go on to have solely white winners. "I think a lot of people don't like change, and there's a view that the BAFTAs have to be this slightly stiff, traditional British, middle-England messaging," Bullen added.
Sorry to those folks, but we, and many others on social media, ate it up. "Camp taste turns its back on the good-bad axis of ordinary aesthetic judgment," Sontag writes later in "Notes on Camp." "What it does is to offer for art (and life) a different — a supplementary — set of standards." And by our standards, the performance is perfect.
Angela Bassett Did the Meme
Yes, even Angela Bassett has seen "Angela Bassett did the thing." At the 2023 NAACP Image Awards, Bassett referenced the meme of her name while accepting Entertainer of the Year. "I guess Angela Bassett did the THING," she said with a knowing upward inflection. This acknowledgment at another award show officially vaults Ariana DeBose's rap into award show camp canon, along with "Adele Dazeem" and the 1989 Oscars duet between Snow White and Rob Lowe.
This post has been updated.