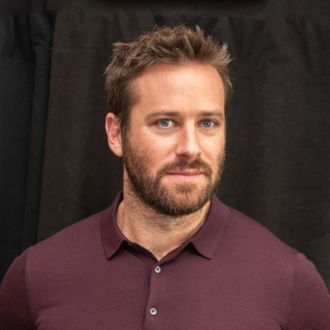 Photo: Vera Anderson/WireImage
Well, Armie Hammer is doing press again. On Saturday, Air Mail published the actor's first interview since allegations of abuse and sexual misconduct were leveled against him at the beginning of 2021. The Call Me By Your Name actor denied the allegations, but was ultimately dropped by his talent agency that year. He voluntarily exited several acting projects and was removed from others. In May 2021, Vanity Fair reported that Hammer had checked into a treatment facility for "drug, alcohol, and sex issues." The actor has maintained a relatively low profile since then, although he was spotted working at a resort in the Cayman Islands last summer. Today, his reputation seems almost inseparable from his allegedly intense brand of sexting; even Dakota Johnson, who once defended Hammer, cracked a joke about his supposed cannibal fetish at this year's Sundance Film Festival. But Hammer has apparently decided that now is the right time to start talking again. Below, here are 13 of the biggest takeaways from his first interview in two years.
1. He admitted to being emotionally abusive.
Hammer described leading a "very intense and extreme" lifestyle where he brought women into a "whirlwind" of travel, sex, drugs, and "big emotions." He said women would feel abandoned or used when he moved on to other women. When asked if it was fair to say that he was emotionally abusive to his accusers, the actor replied, "One million percent."
"I'm here to own my mistakes, take accountability for the fact that I was an asshole, that I was selfish, that I used people to make me feel better, and when I was done, moved on," he said. "And treated people more poorly than they should have been treated."
2. But he claimed that all his sexual encounters have been consensual.
Hammer denied ever engaging in nonconsensual sex with any of his partners. "Every single thing was discussed beforehand," he said of his sexual encounters. "I have never thrust this on someone unexpectedly. Never." In a relationship between a dominant partner and a submissive partner, he views the "sub" as the one with power. "They're the ones who can say 'stop' at any moment. They're the ones who set the boundaries," he said.
3. He thinks his interest in BDSM stems from being sexually abused as a teen.
Hammer alleged that when he was 13 years old, he was sexually abused for almost a year by a youth pastor at a church that his family attended. "What that did for me was it introduced sexuality into my life in a way that it was completely out of my control," he said. "I was powerless in the situation. I had no agency in the situation. My interests then went to: I want to have control in the situation, sexually." Hammer claimed that his parents were dismissive when he tried to express his discomfort with the pastor. He recalled confiding in his godmother, who corroborated the account to Air Mail. Hammer said he started therapy after the allegations against him surfaced, and subsequently realized that his interest in BDSM was linked to this early experience.
4. He alleged that Effie, the woman who accused him of rape, actually planned it as a "scene."
Hammer was previously accused of "mentally, emotionally, and sexually" abusing a former partner, initially identified as Effie. She specifically alleged that Hammer "violently raped me for over four hours" during a 2017 incident. When her allegations surfaced two years ago, Hammer's lawyer denied them and stated that all Hammer's interactions with her were "completely consensual, discussed and agreed upon in advance, and mutually participatory."
Hammer claimed to Air Mail that Effie planned "all of the details" of the alleged rape, which he described as a "consensual non-consent scene." Hammer said that Effie introduced him to the practice, which is often associated with the BDSM community. He claimed that while he had sex with Effie multiple times, they only had one "scheduled CNC event." The actor said that the "scene" was planned over Facebook Messenger. Hammer claimed that he deleted the messages that would prove this, but that his lawyers have so far failed to subpoena them from Meta.
5. He claimed that he was injured around the time of the alleged rape.
Hammer was reportedly recovering from a serious pectoral injury when the alleged rape happened. He provided Air Mail with medical records showing that he attended physical therapy sessions both one day before and one day after the incident allegedly happened. The article questioned if he would have been physically capable of committing a violent, prolonged assault at the time. Air Mail also included a screenshot of a 2018 tweet in which Hammer retroactively referenced the injury.
6. Effie allegedly told some Instagram followers that Hammer did not rape her.
According to screenshots shared by Air Mail, Effie appeared to have told an Instagram follower that she had "consensual sex" with Hammer, allegedly writing that he "is not dangerous. He didn't rape anyone." She also allegedly told another follower that she was "not saying" that Hammer raped her. Air Mail reports that these conversations took place just before Effie made her initial allegations public in 2021.
7. Hammer acknowledged an "imbalance of power" with two accusers.
Hammer said that "the power dynamics were off" in his relationships with two of his accusers, Courtney Vucekovich and Paige Lorenze. "I would have these younger women in their mid-20s, and I'm in my 30s. I was a successful actor at the time," he reflected. "They could have been happy to just be with me and would have said yes to things that maybe they wouldn't have said yes to on their own. That's an imbalance of power in the situation."
Still, he addressed the two women's accusations by claiming that he had their consent. Lorenze previously alleged that Hammer had used a knife to carve the letter A "about an inch deep" near her vagina; Hammer told Air Mail that he received permission to trace his initial on her skin and noted that he left only a scrape. Meanwhile, Vucekovich has alleged that he groomed her and referenced a "bondage scenario" that she hadn't been comfortable with. She claimed that she felt pressured to consent because Hammer acted "cold and angry;" Hammer told Air Mail that the bondage scenario in question had been done multiple times without any objections from Vucekovich.
8. Elizabeth Chambers asked Hammer to do a psycho-legal evaluation.
Chambers reportedly asked her estranged husband to undergo a psycho-legal evaluation in early 2021 amid discussion over the custody of their two children. (She filed for divorce in 2020, though Hammer said that she has yet to sign a divorce agreement.) According to a 142-page report obtained by Air Mail, Chambers alleged that Hammer was grooming girls "as young as 15," claimed that he had put in writing that he wanted to kill his children, and described him as a "psychopath."
She and Hammer were both asked to provide sources to be interviewed for the report. Hammer reportedly pointed psychologists to family members and friends. Chambers reportedly included Hammer's alleged victims in her list of sources, and the psychologists expressed doubt of her "intentions […] as she seems wrapped up in this narrative." The psychologists concluded that Hammer posed no threat to his children or anyone else, noting that some of the actor's attitudes toward sex might be "compulsive, but not out of control." The report ultimately endorsed his request for partial custody.
9. He attempted suicide after the allegations against him surfaced.
Hammer said he attempted to take his own life in February 2021 while quarantining in the Cayman Islands. He recalled swimming out into the ocean and hoping that he would be drowned, hit by a boat, or attacked by a shark. "Then I realized that my kids were still on shore, and that I couldn't do that to my kids," he said.
10. He's "massively in debt."
The actor estimated that in 2021, he lost between $14 million and $16 million in legal fees and roles that he was fired from. "My financial status is I am not only broke; I am massively in debt," he said. Hammer, who is related to the oil tycoon Armand Hammer, admitted that his family loaned him some money for legal fees, but said they have provided no other financial support. At one point, he said a friend had to help him pay for groceries.
11. He wasn't technically supposed to have that time-share job.
Last summer, Hammer was spotted selling time-shares in the Cayman Islands. He claimed that the TMZ footage ended up getting him "sucked into an immigration investigation" because he didn't have a work permit. He also said that he wasn't making any money or even on payroll for the job.
12. He has a new career now.
Hammer said he is working as a sober companion for a fellow recovering addict who recently left rehab. "I'm going to move in with him and live with him, get him on a healthy routine, get him into a good schedule of [recovery] meetings, take him to the gym, cook healthy food for him," he said. "It feels like my recovery has taken a turn from me being the one who needs help staying sober to me being able to help others. Twelve steps in action."
13. And yes, he has thoughts on "cancel-culture" and "woke-mob business."
Hammer said he aspires to experience growth after pain. He pointed to his mentor Robert Downey Jr. — who was arrested several times on drug-related charges —as an example of someone who found "redemption." "And that, I feel like, is what's missing in this cancel-culture, woke-mob business," Hammer said. "The minute anyone does anything wrong, they're thrown away. There's no chance for rehabilitation."