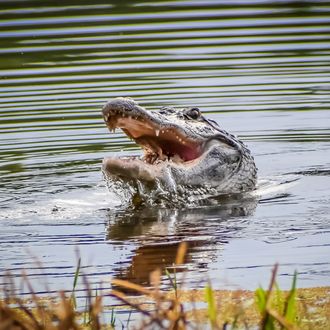 Let him cook (meth).
Photo: Jaimie Tuchman/Getty Images/iStockphoto
Rising from her habitat, peering at a recent movie announcement, quoth Cocaine Bear, "All these bitches my sons, but who's the daddy?" The movie that inspired such declarations is this summer's upcoming Attack of the Meth Gator from production company The Asylum. The movie was announced on Twitter on February 24 and appeared to be a joke until The Asylum replied to an incredulous tweet, saying, "This is real! We're pumping the meth into Floridas fresh water reserves as we speak!" The Asylum is known for creating horror movies like Sharknado, which flout the idea of being "good" or "bad" and instead aim for being the "most" movie. The film follows reports from Tennessee police departments in 2019 that they were scared people flushing meth down toilets could result in local gators ingesting the drug. Given Cocaine Bear's recent success at the box office, and the fact that its name provides an easily replicable formula, Attack of the Meth Gator was likely an inevitability. Of course, what this really makes us think about is other drug-animal movie combos. Ketamine Kangaroo? Ecstasy Boa Constrictor? Opium Fruit Bat? The world is our heroin oyster.