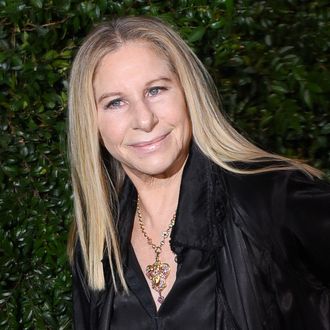 Gonna need the audiobook of this one.
Photo: Presley Ann/Patrick McMullan via Getty Image
Let's hope the mall in Barbra Streisand's basement has a bookstore. Because Babs is writing a book, and boy is the book big. Announced on February 7, My Name Is Barbra has a lot to cover to fully chronicle the Greatest Star's life. Babs has won every award known to man thus far other than a competitive Tony (she has an honorary one) and a Nobel Peace Prize (which should be coming any day now). There's even a cultural phenomenon named the Streisand Effect after her because she sued some guys who took a photo of her house. She forced the Hollywood system to let her direct Yentl, then faced extreme misogyny when Yentl was good. What we're trying to say is that the book is 1,040 pages and for good reason. My Name Is Barbra will be out November 7 through the Penguin Random House imprint Viking, which called the book "frank, funny, opinionated, and charming." Get ready for Barbra Streisand's longest note ever (written, that is).