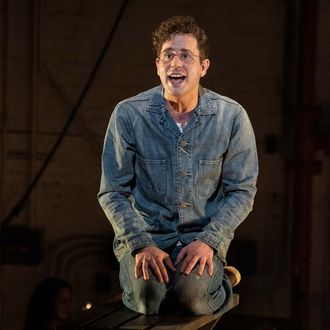 Ben Platt as Leo Frank.
Photo: New York City Center
Parade, a musical about mob mentality destroying the life of a Jewish couple, was protested on its opening night of previews by antisemites, which led star Ben Platt and Parade's producers to respond. "It was definitely very ugly and scary but a wonderful reminder of why we're telling this particular story and how special and powerful art and, particularly, theater can be," Platt said in a solemn video posted to Instagram both celebrating the show and condemning the protesters. "And just made me feel extra, extra grateful to be the one who gets to tell this particular story and to carry on this legacy of Leo." In a video shared by journalist Jake Wasserman on Twitter, a member of neo-Nazi hate group the National Socialist Movement accuses the real Leo Frank, whose story inspired the musical, of being a pedophile. Frank, portrayed by Ben Platt, was wrongfully accused of raping and murdering a young girl in Georgia in 1913 and sentenced to life in prison before being lynched in 1915.
Parade was written by Jason Robert Brown and Alfred Uhry and first appeared on Broadway in 1998, receiving "mixed reviews" due to "some critics faulting the musical's somber subject matter," reporter Jesse McKinley wrote at the time. The current production, directed by Michael Arden and starring Micaela Diamond, began at New York City Center before moving to the Bernard B. Jacobs Theatre as the first Broadway revival of the show. "If there is any remaining doubt out there about the urgency of telling this story in this moment in history, the vileness on display last night should put it to rest," Parade's producers said in a statement. "We stand by the valiant Broadway cast that brings this vital story to life each night."