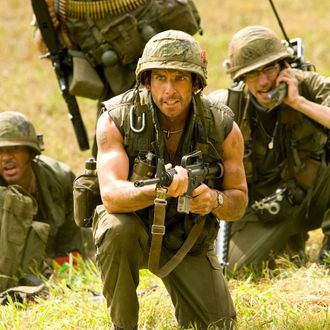 Lots happening.
Photo: Dreamworks
The other day, Ben Stiller apparently got bored of focusing on Severance and decided to reignite the Tropic Thunder debate for some ungodly reason. Tropic Thunder, the 2008 comedy co-written and directed by and starring Stiller, is perhaps best known these days for the performance of Robert Downey Jr., who plays an actor who is using … blackface … as an acting method? So when a Trump supporter with 80,000 followers tweeted at Stiller that they were disappointed to hear he'd apologized for the blackface (adding that the Wayan brothers never apologized for White Chicks) and Stiller responded, the discourse couldn't be canceled.
"I make no apologies for Tropic Thunder," Stiller quote-tweeted on February 21. "Don't know who told you that. It's always been a controversial movie since when we opened. Proud of it and the work everyone did on it."
But even the "controversial" nature of Tropic Thunder is being misremembered. When the film came out, its use of blackface was largely well received, with the San Francisco Chronicle even noting that Stiller received positive feedback from the NAACP from "several African American film journalists." The larger controversy in 2008 was with the film's portrayal of a character that Stiller's character, Tugg Speedman, played in the fictional film Simple Jack. At the time, activist groups boycotted the film because of its portrayal of intellectual disabilities and its use of the R-slur, according to a 2008 New York Times article.
The intellectual-disability controversy reemerged in 2018, when snowboarder Shawn White wore a Simple Jack costume on Halloween. White apologized after being called out by groups including the Special Olympics. Stiller noted at the time, "Actually Tropic Thunder was boycotted 10 years ago when it came out, and I apologized then. It was always meant to make fun of actors trying to do anything to win awards. I stand by my apology, the movie, Shaun White, And the great people and work of the @SpecialOlympics." Yeah, that was also on Twitter.
Yet, despite Stiller's tweet, there is no record to be found online of him apologizing for any part of Tropic Thunder blackface or disability related. TMZ reached out to Stiller's representation in 2018 to find a record of the apology and did not hear back. Vulture has also reached out to representatives for Stiller. At the time, Dreamworks issued a statement saying that Tropic Thunder is "an R-rated comedy that satirizes Hollywood and its excesses and makes its point by featuring inappropriate and over-the-top characters in ridiculous situations" and that "no changes or cuts to the film will be made." This game of controversy telephone is longer than even Stiller himself can keep track of. Perhaps he should put down the phone and get back to work on Severance instead.