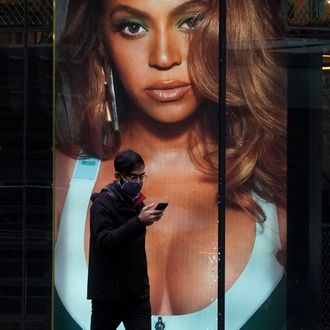 An Ivy Park x Adidas ad in New York City.
Photo: Timothy A. Clary/AFP via Getty Images
The price of eggs is equal to a pound of ground beef, oat milk is still upcharged by a dollar or two for no apparent reason, and Beyoncé announced a 40-plus date world tour, so people are understandably operating under leaner budgets. For the Beyhive, it appears that it has slashed its Ivy Park consumption under these tense economic conditions. Sales of Beyoncé's streetwear brand with Adidas were down more than 50 percent last year — Ivy Park did roughly $40 million in sales in 2022, a tumble from the $93 million earned in 2021, according to a Wall Street Journal report. To make matters a little awkward for the German company, it projected the line would do $250 million in sales in 2022, or $200-some million more than it actually sold. Adidas has since adjusted the projections for 2023, hoping Ivy Park brings in $63 million, as opposed to $335 million. The partnership lost $10 million for Adidas last year, with Beyoncé continuing to rake in $20 million a year from the deal. Their current partnership is set to end after 2023. After the contract expires, Adidas hopes to reset the brand or step back from the deal altogether, per the Journal. It seems Adidas didn't calculate the Beyhive saving up for Renaissance World Tour tickets in its projections … Clearly out of touch with today's economy.