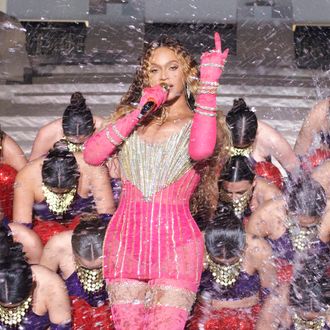 Just know she rolls with them goons.
Photo: Mason Poole/Parkwood Media/Getty Images
Well, one of America's problems is solved, now that Beyoncé officially announced her Renaissance tour. Bey, who's stayed fairly silent since releasing the album six months ago, revealed the long-awaited news with a simple, sparkly Instagram post. Dates are now live on her website, and verified-fan preregistration for North American dates is open now. The ticketing will commence on February 6, with members of the Beyhive receiving the first exclusive presale, while Citi cardmembers and VerizonUp members will also receive presale at some dates. The party starts early in Europe, with Bey kicking off May 10 in Stockholm; she'll move to North American on July 8, beginning with two shows in in Toronto. She's currently set for 29 dates in the U.S., ending September 27 in New Orleans. The stadium tour will likely mark the live debut of Renaissance, since Bey has yet to perform a single song from the album since it came out last July — even at her recent private show for the opening of a Dubai hotel. Now good luck cuffing those tickets.