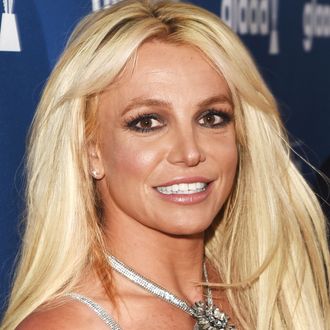 Britney Spears, chef.
Photo: J. Merritt/Getty Images
Britney Spears has responded to rumors about herself … one more time. On February 9, TMZ reported that people close to Spears planned an intervention for the pop star related to "her mental health and substance abuse." One person "in regular contact" with Spears reportedly told TMZ, "I'm afraid she's gonna die." Spears responded to the reports that night via Instagram. "It makes me sick to my stomach that it's even legal for people to make up stories that I almost died," Spears wrote. "I mean at some point enough is enough !!!" The caption was accompanied by a quote reading, "A state of gratitude will shift you to a higher frequency."
While she didn't directly acknowledge reports of the intervention, which TMZ alleged her husband, Sam Asghari, was in on, Spears did address claims she is not doing well made by those who spoke to the outlet. "I'm probably going to have to stop posting on Instagram because even though I enjoy doing it, there's obviously a lot of people who don't wish me well !!!" Spears continued. "I'm honestly not surprised at all … Again doing the best I can !!! Again, the conservatorship has been over for almost a year … No folks, it's not 2007 … it's 2023 and I'm making my first homemade lasagna at home !!! I finally got my fireplace to work in my living room !!! As my hubby says it best: don't believe everything you read !!! All that love right back at ya !!!" Asghari, meanwhile, was willing to deny the intervention outright. "An intervention did not occur. My wife is in full control of her life and will continue to make all decisions involving her care regardless of circumstances," he told Access on February 10. "Speculation on her health is inappropriate and should end immediately." The only news about Spears we want to read is how her lasagna turned out.