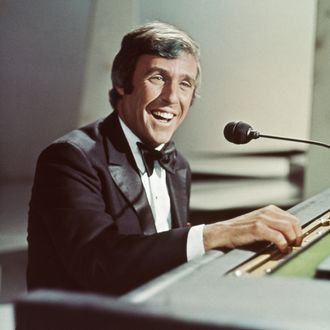 Burt Bacharach.
Photo: NBC via Getty Images
Burt Bacharach — a pop composer, arranger, producer, and conductor known for his fruitful collaboration with Dionne Warwick and for the Oscar-winning Butch Cassidy and the Sundance Kid score — died at his home in Los Angeles on February 8. He was 94. His publicist confirmed his death to the Associated Press.
Together with collaborator Hal David, Bacharach produced a string of hits with Warwick beginning in 1962 — including "Don't Make Me Over," "Anyone Who Had a Heart," "Walk On By," and "I Say a Little Prayer." Bacharach and David's success with Warwick led them to compose songs like Dusty Springfield's "The Look of Love," Herb Alpert's "This Guy's in Love With You," and the Carpenters' "(They Long to Be) Close to You." (Millennials will likely recognize the winning Bacharach formula in "What the World Needs Now Is Love," which was featured in the 1997 romp Austin Powers: International Man of Mystery, and may recall that Bacharach gave piano lessons to Dr. Dre.)
Although the Warwick-Bacharach-David lightning-in-a-bottle era fizzled out by the 1970s and hits made way for misses, Bacharach found new inspiration with the Patti LaBelle and Michael McDonald duet, "On My Own," and 1985's "That's What Friends Are For," which featured Warwick, Gladys Knight, Elton John, and Stevie Wonder. Bacharach continued to perform his own songs with big jazz bands and orchestral accompaniment, and to conquer Broadway, until his death.