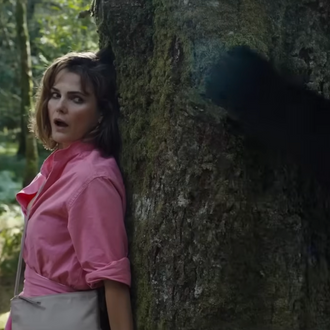 Elizabeth Banks's animal-attack gross-out grossed well at the box office this weekend. Cocaine Bear laid out line after line of cinemagoers, bringing in $28.4 million globally, according to Deadline. Lionsgate's Jesus Revolution also performed miracles, exceeding projected earnings to a $15.5 million domestic opening. Success for the both the Lamb of God and the Bear of Blow augur well for films not based on existing IP — even if both movies are technically (very technically) based on true events. The real Cocaine Bear had a much worse time than the film depicts, and its stuffed corpse is now on display at the Kentucky Fun Center.
Meanwhile, Ant-Man and the Wasp: Quantumania had a steep 69 percent drop-off in its second weekend. Not nice. It went from opening at $106 million to only bringing in an additional $32.2 million this weekend. Although the MCU Phase 5 kickoff film still topped the box office, and last week's opening broke Ant-Man records, its second week does not bode well — it's the biggest week-to-week drop in MCU history. According to The Hollywood Reporter, the second biggest drop-off in recent superhero-movie history was Batman v Superman: Dawn of Justice. Holy franchise fatigue!
Rounding out the top five of the week were Avatar: The Way of Water, grinding away toward its goal of becoming the biggest film of all time, and Puss in Boots: The Last Wish. Some franchises endure over decades.