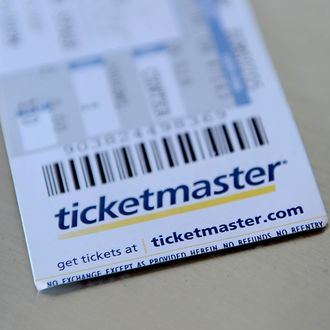 America has a problem.
Photo: Andrew Gombert/EPA/Shutterstock
Break up the big ticket promoters. President Joe Biden is once again doing his part to ensure that fans can rap every verse from Beyoncé's "Heated" outro secure tickets for concerts and sporting events fairly. At a Competition Committee meeting held eight days after the Senate dragged Live Nation and Ticketmaster for allegedly exploiting their lack of competition to charge exorbitant prices, the White House called for limits under the Junk Fee Protection Act on the hidden or unexpected fees tacked onto ticket prices. Congress should "prohibit excessive fees, require the fees to be disclosed in the ticket price, and mandate disclosure of any ticket holdbacks that diminish available supply," the White House said in a statement before indirectly calling out Live Nation. "One company has exclusive partnerships with a reported 80 of the top 100 arenas in the United States, allowing it to charge fees to attend events at those leading venues without fear of competition." The committee is also looking into reducing credit-card late fees, overdraft fees, mobile-app fees for developers, transportation fees, and more.
A government report found service charges averaged more than 20 percent of the ticket's face value for 31 sporting events across five ticket sellers' websites and sometimes reached up to more than half the cost of the ticket. Biden hit at Ticketmaster directly during the committee meeting, calling for Congress "to lower the huge service fees that companies like Ticketmaster slap onto tickets for concerts or sporting events that can easily add hundreds of bucks to a family's night out." Clearly, Biden had heard rumblings of Beyoncé's Club Renaissance Tour earlier in the week and wanted the legislative body to get in formation.