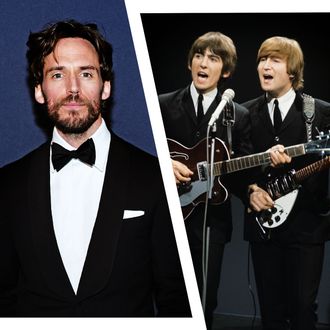 Photo-Illustration: Vulture. Photos: Getty Images
Oh yeah, Sam Claflin for sure knows who the Beatles are. It's uhh … Jon and Paula and Jorge and the other one, right? And they were … Australian? And they wrote … TV? Actually, maybe Sam Claflin doesn't know much about the Beatles. Claflin stars alongside Riley Keough in the upcoming Prime Video series Daisy Jones & the Six, an adaptation of Taylor Jenkins Reid's novel following a fictional '70s rock band's successes and sordid relationships, debuting on March 3. But for a British man starring in a show about rock and roll, both Claflin and the rest of the creative team really love bringing up how little he knows about the most important (English rock) band in history. Below, all the times Claflin has admitted to the press how little he knows about the Beatles.
December 6, 2022
In an early reported piece about the development of the series from page to screen, Claflin tells the story of how he was cast. Vanity Fair notes that Claflin's father was a metalhead, so when Claflin was asked to prepare a '70s rock song for his audition, he had to resort to Google. He ended up going with "Your Song" by Elton John, because Google is a fickle mistress. "It wasn't long before the music producer came in like, 'Right, okay. We're gonna try a different thing because this isn't quite rock and roll," Claflin recounts. The producer suggested "Come Together." "And I go, 'Oh, I know that song, that's Michael Jackson!'" Claflin says. Vanity Fair notes that he sheepishly added that, "So I had that much of a journey to go on. I knew nothing." This is necessary sheepishness. Be the sheep, Claflin, be the sheep.
February 17, 2023
Here, you get the same story, but now you can watch Claflin tell it. While on This Morning in Britain, Claflin tells the story of prepping "Your Song," which the interviews note is a lovely song, but is also, in Claflin's words, "the most un-rock and roll song you've ever heard." Again, he tells the story of a producer coming in and singing some of "Come Together," which Claflin mistook for MJ. Can someone figure out where he got this idea? Does "Billie Jean" sound like "Come Together"?
February 18, 2023
The next go around, Claflin tells a slightly different version of the audition story. Instead of being brought "Come Together," the New York Times reports that after the "Your Song" incident, Tony Berg, the show's music consultant, asked Claflin if he knew any songs by the Beatles. Claflin knew none. No "Yellow Submarine," no "Ticket to Ride," no "I Wanna Hold Your Hand." Not even something from Paul McCartney's solo years. "Out of everyone involved in this project, my knowledge of '70s music, '70s L.A., '70s anything — especially in America and especially in the music sphere — was very, very, very lackluster," Claflin tells the Times. The Beatles are actually from your little island. Don't blame this on L.A.
February 23, 2023
Claflin tells the story to Variety, in case they missed it. He says he ended up on "Your Song" not through Googling, but through an Apple Music genre playlist, so maybe Tim Cook is to blame. "I went into a recording studio for the first time in my life, confronted with a microphone and people watching me in a fishbowl," Claflin remembers. "I sang Elton John's 'Your Song.' Terribly." In this iteration, Daisy Jones showrunner gets his chance to comment on the audition: "It was the train wreck of all train wrecks," he says. On the Michael Jackson mix-up, Claflin notes that "Well, now I know it's the Beatles." That's progress. If you want to review Revolver, we know some people at Vulture.