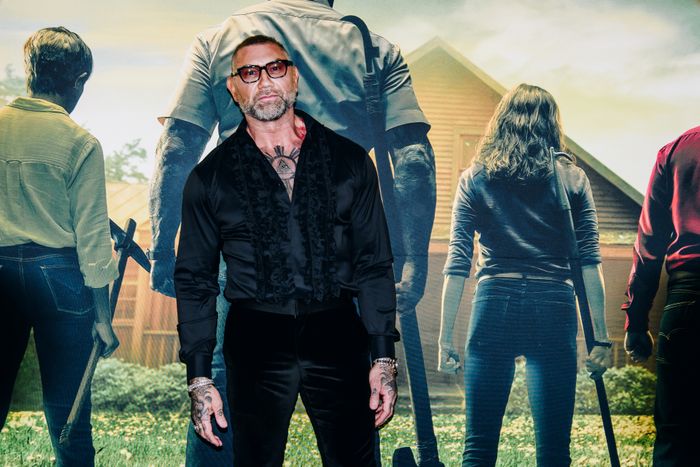 Dave Bautista at the premiere of
Knock at the Cabin
.
Photo: Nina Westervelt/Variety via Getty Images
"Look at Duke," Edward Norton's tech mogul says of Dave Bautista's vlogger early in Glass Onion. "You think people looked at him and saw anything other than the beef?"
While Norton's character is supposed to be dumb — the movie tells us as much many, many times — he's not wrong on this point. It would be easy to look at Bautista and see only a six-foot-four, 289-pound mountain of man. But over the past half-decade, the former WWE heavyweight champion has proved there's little he can't play. His first major role, as Drax in Guardians of the Galaxy, displayed his gift for deadpan comedy. As a near-silent assassin in Spectre, Bautista had more going on behind the eyes than a typical Bond villain's henchman. He didn't just glare at Daniel Craig's superspy; he studied him. A year later, his small role in Blade Runner 2049 revealed another of his secret weapons: his surprising tenderness, a quality heightened by pairing this large man with the world's tiniest eyeglasses.
Bautista's versatility is put to its fullest use yet in M. Night Shyamalan's Knock at the Cabin, where he plays a stranger who arrives at the door of a family's vacation home with an unfortunate proposal: The family must choose to kill one of their own or else the world will end. Alternately gentle, mournful, forceful, and fearful, it's the meatiest performance of the actor's career — and also the best. As our own Bilge Ebiri raves, "Bautista's performance stirs the uncertainty: The quaver in [his] voice tells us that he believes what he's saying but that he can't believe that he's saying what he's saying."
It's also the kind of performance that signals Bautista has finally achieved the goal he's spoken about for years: to be treated as a "serious actor" and not a big pile of muscles. Rather than star in action vehicles, he chose to hone his craft by taking smaller roles for acclaimed directors like Denis Villeneuve and Rian Johnson. The plan culminated with Knock at the Cabin becoming the first film to knock Avatar: The Way of Water off the top of the box office, which will hopefully enable Bautista to become the latest character actor to take the leap to full-on stardom. After he returns from Arrakis in Dune: Part Two, how should this extremely intentional actor make use of his newfound clout? I have some suggestions:
A Rom-com
I suspect that, despite what he recently told a reporter, Bautista doesn't actually think he's too ugly to star in a rom-com. (A man with low self-esteem would probably not show up to a movie premiere dressed like that.) The reason he hasn't been cast in one is probably because, apart from Jennifer Lopez, no one is getting cast in rom-coms these days. But as many people are starting to notice, Bautista is hot, and it's past time he gets a chance to show some romantic chemistry onscreen. Just watch his recent Tonight Show appearance, where he even has sparks with Jimmy Fallon of all people. Couldn't you just see him in an opposites-attract rom-com? Hollywood, please enjoy my pitch for Low & Slow, in which Bautista stars as a vegan pastry chef whose bakery just so happens to sit across the street from Reese Witherspoon's BBQ smokehouse. Will they ever see eye to eye? Probably not, unless they're sitting down. He's gigantic, she's teeny, let's see what happens!
A European art-film version of Waiting for Godot
Bautista can be funny in a bunch of different ways. In Guardians of the Galaxy he's dry and deadpan; in Glass Onion, he's so big and hammy he's practically a muffuletta. In both he gets a lot of mileage out of playing dim, so let's put his comedic sensibilities to the ultimate test by casting him as Vladimir in a pan-European co-production of Waiting for Godot. At the very least, he'd wear the hell out of a bowler. For Estragon, I think you want a short king, maybe one of our newly Oscar-minted Irishmen, Paul Mescal or Barry Keoghan. And to direct, Austrian auteur Jessica Hausner, whose off-kilter aesthetic would give this project an intriguing wavelength all its own. Ideally, the film will have its world premiere at the Venice Film Festival, because just imagine how he'll look in that boat.
A noir
Bautista could play a noir heavy in his sleep, but I wonder what would happen if you instead cast him as the lead. A boxer who refuses to throw a fight — wait, that's Pulp Fiction. A crooked longshoreman who gets in over his head — wait, that's The Wire season two. So maybe he's an airboat operator who stumbles upon a dead body in the Everglades, or a Chicago bartender who was the last person to see the mayor's daughter alive, or a paranoid college professor who catches wind of a D.C.-wide conspiracy, Redford-style. The point is, Bautista has an extraordinary ability to look extremely imposing while still retaining the audience's sympathy, and I want to see him peeking through venetian blinds in the middle of a stormy night.
Starring in the film adaptation of Tana French's The Searcher
Or we don't have to make up a plot. Tana French is an Irish author who mainly writes about detectives in Dublin, but her most recent book is about an American cop who retires to Ireland, where his idyllic fantasies clash with the realities of rural life. He strikes up a friendship with a local kid who needs help — an opportunity for Bautista to deliver more of the goods he displays in Knock at the Cabin, where he's very good opposite young co-star Kristen Cui. In the opening scene, before all the mess goes down, he plays genuine care in a way that never comes off as forced or schmaltzy. Given how much red-carpet season loves a precocious kid, if you get a prestige-y director like Lenny Abrahamson behind the camera for this one, maybe you can sniff up some awards buzz?
A big family comedy
I would hate to see Bautista turn his back on comedy forever, so hopefully once he's proven his actorly bona fides to his satisfaction, he'll be comfortable playing a goof once more. We know he plays well in an ensemble, so let's put him in a big family comedy that everyone gets together to watch once a year. Ideally, he'd get a scene-stealing supporting part. I could see him as a black-sheep uncle, sorta like Randy Quaid in National Lampoon's Vacation, the kind of character whose best lines your dad mangles for decades to come. Fill out the cast with Hollywood's bevy of part-Filipino actors: Darren Criss as the family golden boy, Vanessa Hudgens serving Rachel McAdams–in–The Family Stone vibes, Evan Mock as a cousin who's big on TikTok. Just whatever you do, don't name it after a holiday and then release it at a completely different time of year.
Shakespeare
If Bautista wants to be taken seriously as an actor, there's no better way than to tackle the Bard. But which role? He's a bit too old for Henry V and a bit too young for King Lear. Othello is out, for reasons I don't need to explain. Falstaff would be fun, if not exactly a stretch. Same goes with Macbeth. My dream is that some enterprising director casts him as Claudius in Hamlet, a part that would let him show off his menacing charisma but also allows for moments of vulnerability as well. (Plus, he could continue his penchant for getting poisoned onscreen.)
The Road House remake
I am aware that Jake Gyllenhaal has already been cast in Doug Liman's Road House remake, and they already started shooting six months ago. But come on: If there was any role Bautista was born to play, it's that of a soulful bouncer with a philosophy degree from NYU. "Be nice, until it's time to not be nice"? That's his whole deal in a nutshell!