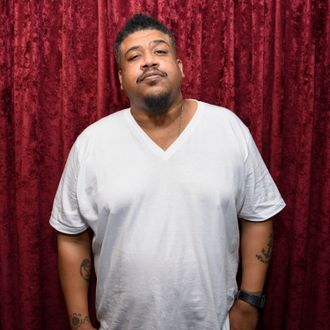 Photo: Matthew Eisman/Getty Images
David Jude Jolicoeur, who rapped as Trugoy the Dove, died on February 12. He was 54. No cause of death was given, but the rapper had been diagnosed with congestive heart failure in 2017.
Trugoy was one of three rappers who banded together as De La Soul. Their 1989 album, 3 Feet High and Rising, helped define jazz rap and influenced generations of rappers and crate archeologists alike. Their use of samples was innovative and exuberantly creative but also caused the group to run afoul of copyright lawyers. The group also battled their former label Tommy Boy for years over streaming rights. Just last month, the band announced that De La Soul's back catalogue was finally coming to streaming services in March.
De La Soul was comprised of Trugoy, Posdnuos, and Maseo. Friends since high school, the group caught the attention of Prince Paul with a demo of "Plug Tunin'." They were quickly enmeshed in the Native Tongues Posse alongside such artists as A Tribe Called Quest and Queen Latifah. According to Pitchfork, artists such as Yasiin Bey, Jurassic 5, Pharrell, and Tyler, the Creator cited De La as an influence on their music. Damon Albarn went so far as to ask the trio to guest on "Feel Good Inc." for Gorillaz. De La Soul also appeared on the cartoon band's Plastic Beach and Humanz LPs.
Both Posdnous and Maseo shared tributes to Trugoy, referring to him as Dave, to De La Soul's social media on February 22. "You were the heart of our group," Posdnous wrote. "You brought so much creativity, energy, and passion to our music, and your influence will be felt for years to come. Your passing is a great loss not only to us, but also to the entire hip-hop community. You were a true artist who used music to inspire and uplift others, and you will be deeply missed by all who knew you."
"Dave - thank you so much for being in my life," Maseo wrote. "Although you and I would argue like hell, we would both admit when we were wrong and totally come full circle and say, 'I Love You.' I want to truly thank you for having the birds eye view of our collective vision to be a group."
De La Soul was singled out for their joyous records and their playful tone as the three friends pitched bars back and forth. "We've been different ever since we were in school," Trugoy told The Guardian in 2014. "We didn't dress like anyone else and we had our own language so nobody would know what we were talking about, so it was natural that we'd do different things with our music too."