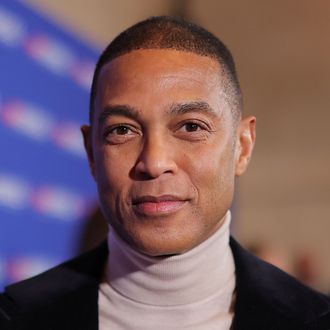 At his big age.
Photo: Mike Coppola/Getty Images for CNN
The middle-aged man who shared his thoughts on a woman's "prime," unprovoked and on live television, will return to CNN on February 22, per CEO Chris Licht. Don Lemon made the comments during a discussion about Republican presidential candidate Nikki Haley's endorsement of a mental-competency test for any politician over age 75. To rebut her remarks, Lemon argued that the 51-year-old Haley wasn't "in her prime." "Nikki Haley isn't in her prime, sorry," Lemon said with his chest on February 16. "A woman is considered to be in their prime in 20s and 30s and maybe 40s. If you Google 'when is a woman in her prime,' it'll say 20s, 30s, and 40s." The statement earned him widespread criticism for the obvious, but also because broadly citing Google for anything is deeply unserious.
Lemon apologized for his statement on Twitter in the aftermath of the incident. "The reference I made to a woman's 'prime' this morning was inartful and irrelevant, as colleagues and loved ones have pointed out, and I regret it," he wrote on that same day. "A woman's age doesn't define her either personally or professionally." Sources said a preplanned Presidents' Day vacation kept him from his post on February 17 and 20, while a time-out kept him off-air on February 21. "I sat down with Don and had a frank and meaningful conversation," Licht told staff in a memo obtained by The Hollywood Reporter. "He has agreed to participate in formal training, as well as continuing to listen and learn. We take this situation very seriously. It is important to me that CNN balances accountability with fostering a culture in which people can own, learn and grow from their mistakes." First lesson: Read some Audre Lorde or Judith Butler instead of the first link that pops up on a search engine.